Ma's remarks at international forum 'unpresidential'
'UNBECOMING': Ma was tactless in criticizing a sitting president at a global forum, the MAC said, while his office said the MAC should be disbanded by Tsai's logic
The Mainland Affairs Council (MAC) yesterday said former president Ma Ying-jeou's (馬英九) comments at the Delphi Economic Forum were unbecoming of his status. The council said it regretted that Ma acted in an unpresidential manner while attending an event in Greece.
Ma on Friday criticized President Tsai Ing-wen (蔡英文) at the forum, and said her comments over the past three years have contravened the Act Governing Relations Between the People of the Taiwan Area and the Mainland Area (臺灣地區與大陸地區人民關係條例) and failed to meet her oath to follow and abide by the Constitution.
Ma said he was referring to Tsai twice stating that "the People's Republic of China and the Republic of China are two separate entities that existed independently of each other."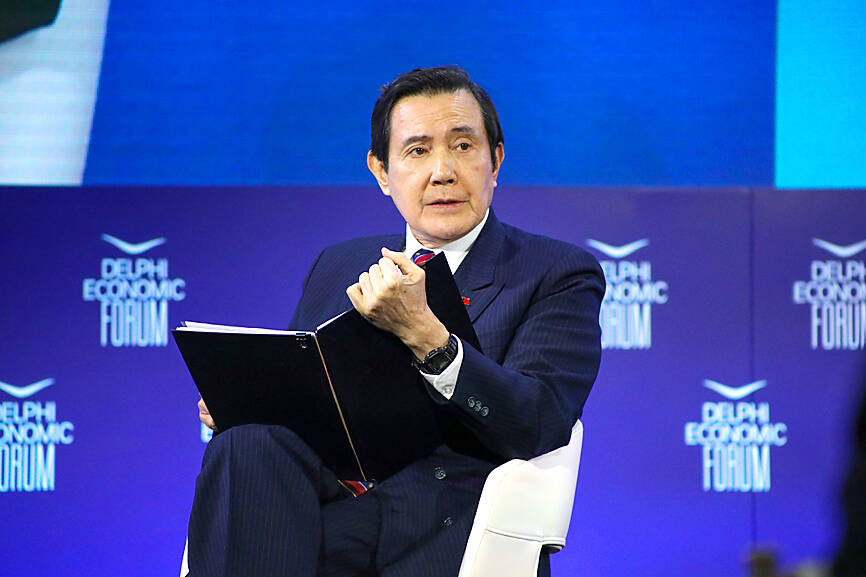 Former president Ma Ying-jeou attends the Delphi Economic Forum on Friday.
Photo courtesy of Ma Ying-jeou's Office via CNA
The MAC said Ma's interpretation of the Constitution was his reading, and Ma should not have cited personal opinions as grounds to attack a sitting Taiwanese president at a foreign event.
Taiwan must uphold the nation's sovereignty and its democratic way of government, and has refused Beijing's demands to accept its "one China" principle, which is the cause for suspended semi-official cross-strait interactions, the MAC said.
The MAC accused Ma of "pandering" to Beijing at an event where attendees were not familiar with the cross-strait situation.
Ma should "not forget" that during his 2015 meeting with Chinese President Xi Jinping (習近平), he "bowed to Beijing's pressure" not to discuss that "each side has its own interpretation of what 'China' means," a staple of Chinese Nationalist Party (KMT) ideology.
The MAC said that Ma was setting himself up to become a "national pariah," and urged the nation to be united in upholding Taiwan's dignity.
Ma spokesperson Hsiao Hsu-tsen (蕭旭岑) yesterday said that only by observing the Constitution and maintaining that both sides of the Taiwan Strait are not separate countries could Taiwan's interests be observed.
Ma's comments at the forum "reflect a majority opinion in Taiwan" for cross-strait relations to be peaceful, Hsiao said.
The MAC was behaving like "crazed dogs" to prevent the international community from hearing what Ma has to say, he added.
If Tsai's comments that "neither side of the Taiwan Strait belongs to the other" held true, the MAC serves no function, as the Ministry of Foreign Affairs handles state-to-state relations, and should be disbanded by Tsai's own logic, Hsiao said.
Comments will be moderated. Keep comments relevant to the article. Remarks containing abusive and obscene language, personal attacks of any kind or promotion will be removed and the user banned. Final decision will be at the discretion of the Taipei Times.