KMT councilors shielding Hou: DPP
'ACCOMPLICES': The KMT-led New Taipei City Council has crafted a new schedule to better accommodate the city mayor's presidential run, DPP city councilors said
The Chinese Nationalist Party (KMT) is "deceiving the public" and "bending the rules" of question-and-answer sessions at the New Taipei City Council, Democratic Progressive Party (DPP) councilors said yesterday.
DPP New Taipei City Councilor Cho Kuan-ting (卓冠廷) told a news conference that his KMT peers are trying to ensure that New Taipei City Mayor Hou You-yi (侯友宜) is nominated by the KMT to run for president next year, likening their behavior to "fixing a baseball game."
The KMT councilors are trying to ensure that no meetings would be held immediately before the party is expected to nominate its candidate, he said.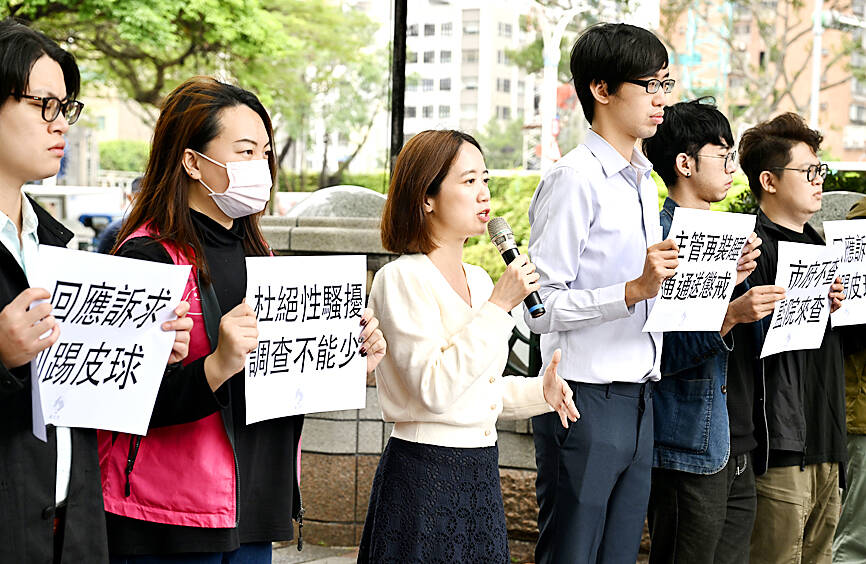 Democratic Progressive Party New Taipei City Councilor Tai Wei-shan, center, Youth Jurist Association of Taiwan secretary-general Liu Chia-hang, second right, and others hold signs at a protest outside the Control Yuan in Taipei yesterday calling on the government to investigate sexual harassment claims at a public school.
Photo: Hsieh Chun-lin, Taipei Times
"The original schedule included question-and-answer sessions between June 5 and 20, but KMT councilors on the agenda-setting committee changed the schedule," Cho said, adding that it would limit the time for councilors to prepare questions about "issues that are important to New Taipei City residents."
The KMT caucus is trying to shield Hou, sacrificing the interests of residents, Cho said.
If Hou were allowed to answer the questions before the nomination is expected, he could claim that he has completed his duties as mayor and resign to focus on his presidential campaign, Cho said.
DPP councilors and other pan-green members of the city council voted against Tuesday's motion to change the schedule and attended a protest inside New Taipei City Hall, holding banners accusing Hou of planning to resign to run for president and calling KMT councilors his "accomplices."
Hou said that he would focus on national revitalization efforts.
"I respect the decision made by the city council committee. Our nation is facing many difficulties, including in domestic affairs and internationally," he said. "We must overcome them and work toward revitalization."
Separately, New Taipei City councilors led by Tai Wei-shan (戴瑋姍) of the DPP and representatives of the Youth Jurist Association of Taiwan held a demonstration in front of the Control Yuan in Taipei asking it to investigate sexual harassment cases in schools.
One among several high-profile cases reported recently occurred in New Taipei City's Jhonghe District (中和), Tai and the other protesters said, accusing the city government of attempting to cover up negligence and inaction by city officials.
"The female victim, a school staff, reported the incident to police two months ago, but the city government, including the education and labor departments, and school officials have done nothing, despite being notified immediately," Tai said.
Hou should lead the probe, Tai said, adding that if the city government continues to do nothing, it would be clear that it is trying to shield the alleged perpetrator, the school's head of general affairs.
Tai and other protesters held placards saying: "We ask the Control Yuan to probe the case, as the New Taipei City Government will not do it."
Other placards urged city officials to take responsibility and asked Hou to order a probe or resign.
The school staff accused her supervisor of bullying and sexual harassment, Tai said.
The law requires that alleged offenders be suspended and a probe be conducted, but nothing has been done and the supervisor has even threatened the staff after she filed the report, Tai added.
Comments will be moderated. Keep comments relevant to the article. Remarks containing abusive and obscene language, personal attacks of any kind or promotion will be removed and the user banned. Final decision will be at the discretion of the Taipei Times.