Koo Kwang-ming honored at Taipei memorial service
A memorial held yesterday for late Taiwanese independence advocate and senior presidential adviser Koo Kwang-ming (辜寬敏) paid tribute to Koo's efforts toward the normalization of Taiwan's international status.
Koo passed away on Feb. 27 at the age of 97.
What concerned Koo most was the relationship between Taiwan and China, said his son Richard Koo (辜朝明), who is the chief economist at Japan's Nomura Research Institute.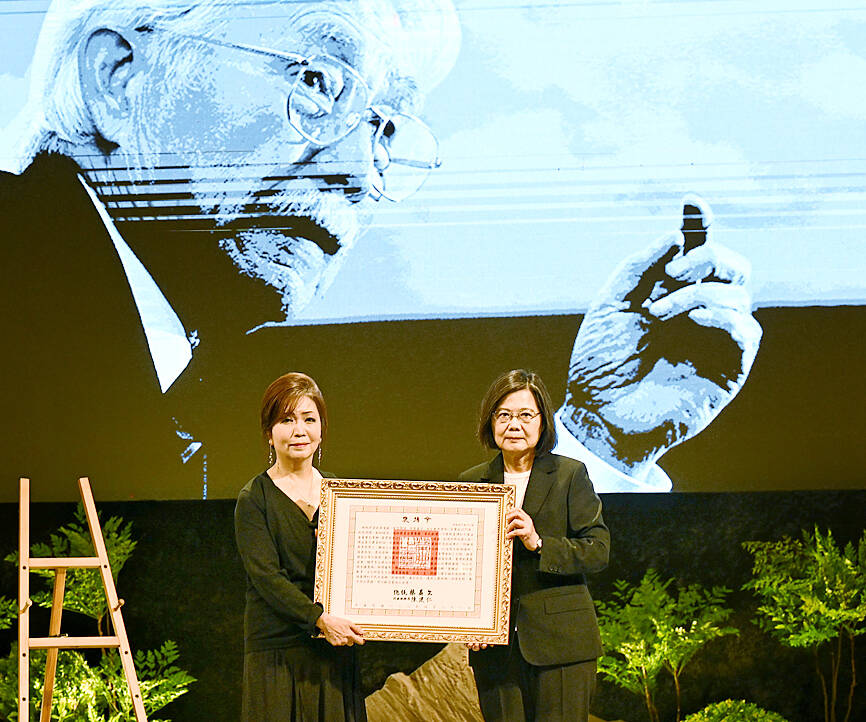 The widow of late Taiwanese independence advocate Koo Kwang-ming, Michelle Wang, left, receives Koo's citation of honor from President Tsai Ing-wen at a memorial service in his honor in Taipei yesterday. Koo passed away on Feb. 27, aged 96.
Photo: Fang Pin-chao, Taipei Times
Koo Kuang-ming had believed that Taiwan could not develop as a normal country unless it had peaceful relations with China, and had proposed the concept of a "federation of brothers" in which both countries would recognize each other's independence and enjoy mutually beneficial ties.
Richard Koo said at the service that what impressed his family most about his father was his business achievements.
"My father had failed in the past, and was 68 when he finally established a successful business," he said.
Upon Koo Kuang-ming's return from Japan 35 years ago, he was advised by his friend Yang Tsung-che (楊宗哲) that career success wields influence in Taiwan, Richard Koo said.
"He traveled to several Pacific island countries in the process of starting his own business in the fisheries," he said.
Koo Kwang-ming believed that declaring independence would not be difficult for Taiwan, but it would be more of a struggle to establish a framework for Taiwan and China to peacefully coexist and share interests.
Koo Kwang-ming said that Taiwan and China could share close ties if the right conditions were met.
"Before he was hospitalized, my father often called me in Tokyo to talk about how he could share his thoughts on cross-strait ties with the Chinese leadership," he said. "I believe that my father is looking upon us from heaven, and is delighted to see us continuing to work hard for Taiwan."
Also speaking at the memorial, Vice President William Lai (賴清德) cited Koo Kwang-ming's proposal of a "federation of brothers," saying Taiwan and China can coexist as allies and thrive together across the Taiwan Strait.
The Pacific Ocean is "large enough to accommodate competition between the US and China, and the Taiwan Strait is wide enough to allow Taiwan and China to both survive and develop," he said.
Comments will be moderated. Keep comments relevant to the article. Remarks containing abusive and obscene language, personal attacks of any kind or promotion will be removed and the user banned. Final decision will be at the discretion of the Taipei Times.