US, China leave Taiwan few choices, Ko says
Maintaining the "status quo" across the Taiwan Strait is the only option for Taiwan amid an impasse between the US and China, Taiwan People's Party (TPP) Chairman Ko Wen-je (柯文哲) told a US forum on Monday.
The former Taipei mayor, who is expected to run as the TPP's candidate in next year's presidential election, made the remarks at an event hosted by George Washington University's Elliott School of International Affairs.
With Washington refusing to allow unification with China and Beijing opposing Taiwanese independence, no alternatives exist for Taiwan, said Ko, who is on a three-week visit to the US.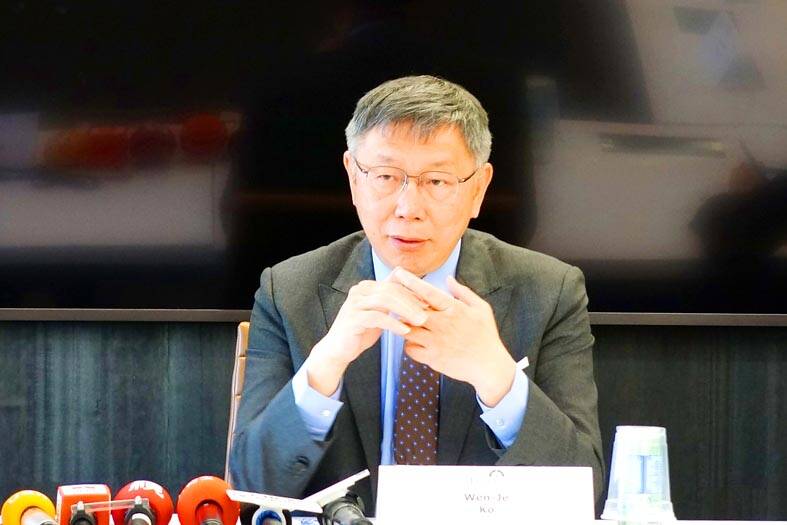 Taiwan People's Party Chairman Ko Wen-je speaks at a forum in Washington on Monday.
Photo: CNA
As many as 90 percent of Taiwanese favor maintaining the "status quo" of "no unification, no independence and no use of force," he said.
If elected president, Ko would use "five mutuals" in relations with China to avoid conflict and miscalculation: mutual knowledge, mutual understanding, mutual respect, mutual cooperation and mutual accommodation, he said.
While advocating for more communication between Taipei and Beijing, he said he did not have plans to visit China.
Regarding his national defense policy, Ko said that "only by preparing for war and being able to fight will [we] not fear war."
However, it was his party's position that Taiwan should avoid provoking a confrontation with China, he added.
Meanwhile, Beijing's rumored plan to conduct a "major military activity" in the Yellow Sea this week would only worsen cross-strait relations, he said.
While there was a fixed distance between the two sides of the Strait, "the distance between people's hearts on both sides is variable, and China should understand this," he said.
Since leaving for the US on April 8, Ko made stops in New York and Boston before arriving in Washington on Sunday, where he is to remain until Thursday.
While in the US capital, he is scheduled to meet with several US representatives, and pay "important visits" to US officials today, a source familiar with the matter said.
Comments will be moderated. Keep comments relevant to the article. Remarks containing abusive and obscene language, personal attacks of any kind or promotion will be removed and the user banned. Final decision will be at the discretion of the Taipei Times.