Hou You-yi to pursue 'diplomacy' in Singapore
UNDER FIRE: The timing of the sudden visit abroad 'cannot be a coincidence,' as its announcement came a day after Hou was accused of bribery, a Taipei councilor said
New Taipei City Mayor Hou You-yi (侯友宜), widely seen as one of the frontrunners for the Chinese Nationalist Party's (KMT) presidential nomination, is to visit Singapore today as part of "international diplomacy," he said yesterday.
His remarks were interpreted by some as an indication he might soon officially declare he was running in next year's presidential election.
New Taipei City "already closely interacts with Singapore," he said of the reason for the trip, citing the use of technology from the city-state in New Taipei City's Christmas light show last year.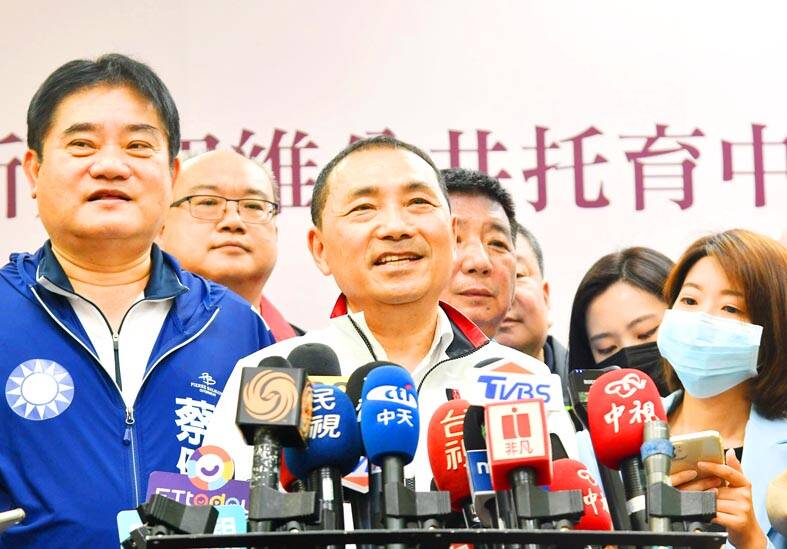 New Taipei City Mayor Hou You-yi, center, speaks to reporters in New Taipei City yesterday.
Photo: CNA
Hou did not say whether he would meet with Singaporean Prime Minister Lee Hsien Loong (李顯龍).
He said he plans to visit Nanyang Technological University, which is "the most important start-up base in Singapore," and would also visit companies and government departments, as well as host a symposium "to demystify how Singaporean youth create their own world."
Four female city department heads would accompany him "to demonstrate the city's emphasis on gender equality," and would meet with Singaporean counterparts to discuss issues such as sustainable development, urban economics and culture, he said.
Separately yesterday, Democratic Progressive Party (DPP) Taipei City Councilor Yen Wei-tzu (顏蔚慈) said that Hou was traveling abroad to avoid responding to accusations that he committed bribery in 2014.
Former KMT member and political pundit Luo You-zhi (羅友志) on Monday said that Hou had tried to bribe him in exchange for not seeking the party's nomination in the 2014 local elections.
The mayor's trip was announced suddenly, and after the city government had previously said there were no plans for official visits abroad this year, Yen told a news conference in Taipei, alongside DPP spokesman Chang Chih-hao (張志豪), and DPP New Taipei City councilors Tai Wei-shan (戴瑋姍) and Chen Nai-yu (陳乃瑜).
"The timing of the trip, just as controversy has emerged surrounding Luo's accusations, cannot be a coincidence," she said.
Hou has avoided answering questions such as whether he met with Luo, whose interests Hou had been trying to protect in the 2014 local elections, and where the NT$5 million (US$163,789) bribe allegedly offered to Luo came from, Chang said.
"All Hou said [in response to questions] was: 'Although Taiwan guarantees freedom of speech, it is still a democratic country ruled by law,' which just left everyone with a lot of questions," he said.
Comments will be moderated. Keep comments relevant to the article. Remarks containing abusive and obscene language, personal attacks of any kind or promotion will be removed and the user banned. Final decision will be at the discretion of the Taipei Times.