Hou You-yi says 'good to go' for presidential bid
New Taipei City Mayor Hou You-yi (侯友宜) yesterday said he is "good to go" to run in next year's presidential election as the Chinese Nationalist Party (KMT) started its nomination process.
Hou — who is widely regarded as the presumptive KMT presidential candidate — made the remark in response to questions about his next moves at a news conference after a meeting with city officials.
Asked to elaborate, Hou said he has held 15 government posts during his career, adding that preparing for new challenges to help the nation is part of the job.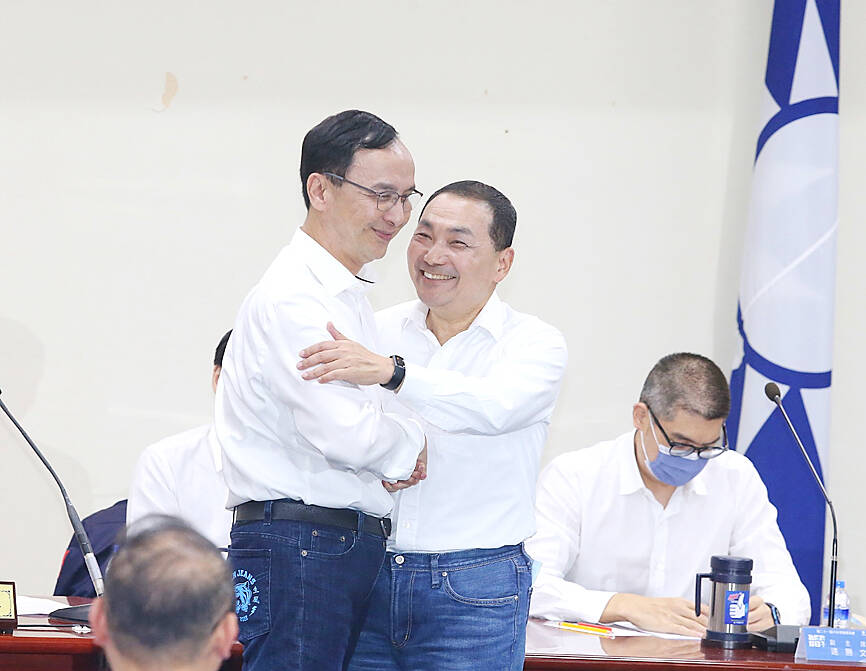 Chinese Nationalist Party (KMT) Chairman Eric Chu, left, and New Taipei City Mayor Hou You-yi shake hands at KMT headquarters in Taipei yesterday.
Photo: CNA
The KMT's nomination process is directed by KMT Chairman Eric Chu (朱立倫) with an eye toward party unity, Hou said, adding that he trusts in the party headquarters' decisionmaking process and strategy.
Hou in November last year was re-elected mayor with more than 1.16 million, or 62.42 percent, of the vote, which has bolstered his position as the party's leading presidential hopeful.
However, to run for president, Hou would need to step down as mayor before serving less than half of his mandate.
Hou said he would like to be part of a special committee that would select candidates for next year's legislative elections.
Separately, the KMT Central Standing Committee nominated 16 legislative candidates, with KMT mayors and commissioners posing with the candidates for the cameras in a demonstration of unity.
The party would name two more sets of candidates by June 18, KMT Legislator Hung Meng-kai (洪孟楷), who heads the KMT culture and communications committee, told a separate news conference in Taipei.
The party last month said it would nominate legislative candidates by a special committee instead of holding primary elections, citing a need to maintain solidarity.
The party has delayed naming a presidential candidate due not to disunity, but to amplify the "mother hen" effect on other candidates, Hung said.
The KMT would not rush or postpone announcing candidates for the elections, he said.
Asked about Taiwan People's Party Chairman Ko Wen-je's (柯文哲) public disapproval of a proposed "non-green alliance," Hung said the KMT is ironing out differences with other opposition parties in hopes of creating a broader coalition.
The KMT has open lines of communication with other opposition parties and conducts its negotiations with the utmost sincerity, he said.
Comments will be moderated. Keep comments relevant to the article. Remarks containing abusive and obscene language, personal attacks of any kind or promotion will be removed and the user banned. Final decision will be at the discretion of the Taipei Times.