DPP confirms Lai's presidential bid
The Democratic Progressive Party (DPP) yesterday officially nominated Vice President William Lai (賴清德) as its candidate in next year's presidential election.
Following the announcement, Lai said: "We will move forward along President Tsai Ing-wen's (蔡英文) path of democracy ... and embrace the international community to strengthen Taiwan's democratic system."
"Democracy is the consensus among all Taiwanese. Voters in 2024 will choose democracy or authoritarianism," he said.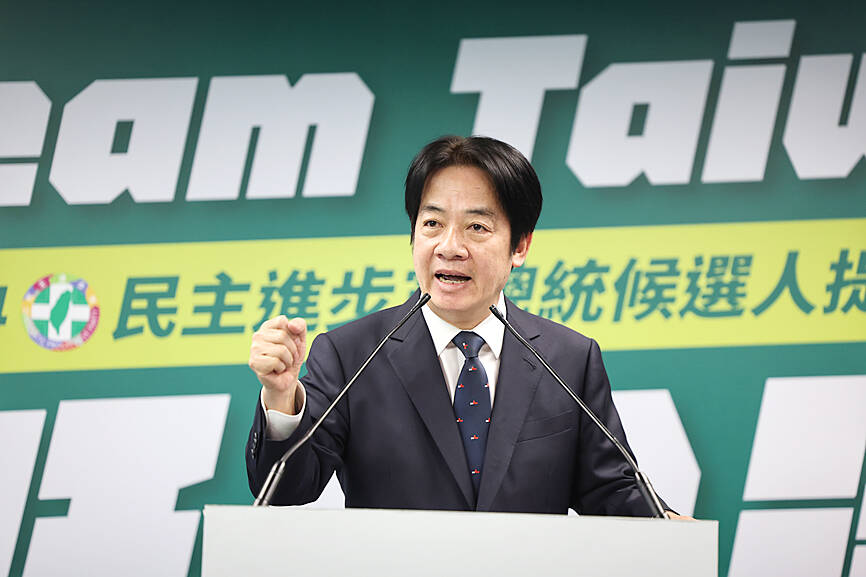 Vice President William Lai speaks at Democratic Progressive Party headquarters in Taipei yesterday.
Photo: CNA
Lai stated the three major themes of "unity for democracy," "good governance through democracy" and "peace through democracy" as his goals for Taiwanese.
"We shall strive to make Taiwan the MVP of the world's democratic countries," he said.
"Taiwan is a de facto sovereign nation, so there is no need to declare independence," Lai said.
"Taiwan and China are distinct, separate entities and we are not an inalienable part of China. Our national sovereignty cannot be violated by any other country," he said.
"Polls show that most people in Taiwan are opposed to unification with China and do not accept Beijing's 'one country, two systems' model," he added.
Lai said Taiwan has a democratic system and holds regular elections, in which people can choose representatives at all levels of government.
Meanwhile, DPP officials rejected the Chinese Nationalist Party's (KMT) demand that Lai apologize for a spate of shootings in Tainan, as well as alleged misconduct by Tainan City Government officials.
"KMT members are up to their usual trick of using smear tactics and character assassination against their political opponents," DPP spokesman Chang Chih-hao (張志豪) said.
"They are trying to shift attention away from their own party's scandals and controversies through personal attacks, and by spreading rumors and false information," Chang said.
KMT legislators and councilors have alleged that Lai was linked to the shootings that involved gangsters.
"The KMT has turned into a rumor mill, churning out personal attacks against Lai and other DPP members," Chang said.
"The KMT has always been the party most associated with corruption, gangsters, bribery and other illegal activities," he said.
Many KMT members have been convicted for corruption and other crimes, and served prison terms, Chang said.
He asked whether KMT Chairman Eric Chu (朱立倫) and New Taipei City Mayor Hou You-yi (侯友宜) concur with such KMT members circulating rumors.
The KMT should put its own house in order first and deal with party members associated with corruption scandals and gangsters, as well as other unlawful activities such as bribery and illegal profiteering, Chang said.
Comments will be moderated. Keep comments relevant to the article. Remarks containing abusive and obscene language, personal attacks of any kind or promotion will be removed and the user banned. Final decision will be at the discretion of the Taipei Times.