Carrier a threat to east coast: experts
'SIGNIFICANT RISK': Runways are required in eastern counties for air defense, along with a boost in submarine forces, to stop a PLA invasion, analysts said
Warplanes from the Chinese aircraft carrier Shandong, located about 200 nautical miles (370km) east of Taiwan on Sunday, successfully conducted takeoff and landing drills, which local military specialists said could pose a serious threat to eastern Taiwan if a war occurs.
The Ministry of National Defense said it has been tracking the deployment of the Shandong since it departed from Sanya Naval Port in China's Hainan Province earlier this month.
The aircraft carrier on Wednesday passed through the Bashi Channel south of Taiwan and sailed into the west Pacific, where it was expected to carry out its first long-range training mission in that area, the ministry said.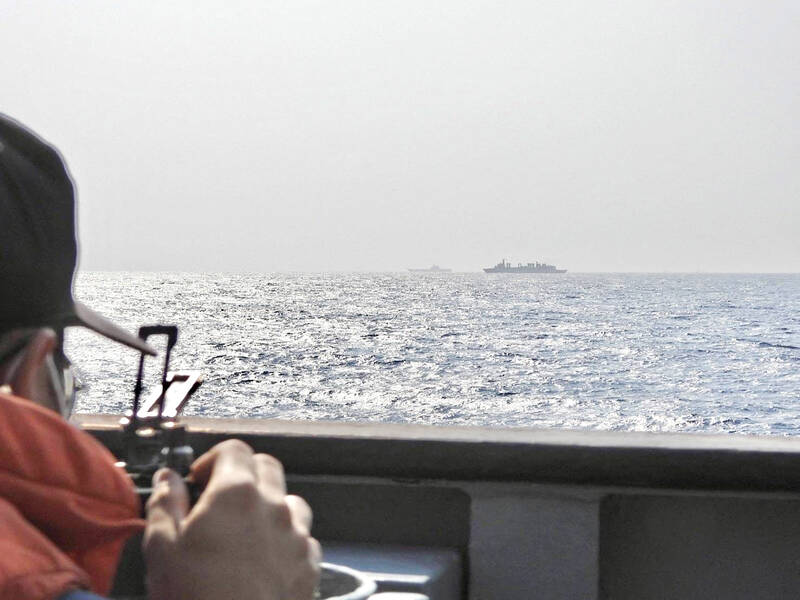 A Taiwanese navy sailor monitors China's Shandong aircraft carrier east of Taiwan on Wednesday.
Photo: Ministry of National Defence via AFP
A military source familiar with the matter yesterday said that a round of drills involving warplanes landing and taking off was held on the Shandong on Sunday as part of a three-day People's Liberation Army (PLA) exercise that began on Saturday in response to a meeting between President Tsai Ing-wen (蔡英文) and US House of Representatives Speaker Kevin McCarthy in California last week.
Among the 35 Chinese military jets that flew into Taiwan's southwestern air defense identification zone (ADIZ) on Sunday, four of them — all J-15 fighters — took off from the Shandong, the source said.
Asked about the significance of such PLA drills, retired air force lieutenant general Chang Yen-ting (張延廷) said that China's drills in the Taiwan Strait on the west side of Taiwan and in the Pacific Ocean on the east side are meant to turn the Strait into China's own inland sea instead of an international waterway.
The drills show that the Shandong aircraft carrier is a serious threat to eastern Taiwan, which the Taiwanese military has traditionally used to preserve and maintain its combat readiness in the event of a full-scale invasion by the PLA, as the region is protected by the central mountain range, Chang said.
As the PLA is now capable of launching attacks from waters east of Taiwan thanks to its new aircraft carrier, it is vital that Taiwan enhance its air defense capabilities and have additional runways in the eastern counties of Hualien and Taitung, he said.
Chieh Chung (揭仲), an associate research fellow at the National Policy Foundation in Taipei, agreed, saying the Shandong is estimated to have the capcity to accommodate 24 to 32 military aircraft.
With the four J-15s taking off from the Shandong and flying into Taiwan's southwestern ADIZ, the four fighters constitute one tactical flying formation, which poses a "serious and immediate" threat to Taiwan, Chieh said.
Once the Shandong is officially combat ready, China will have two aircraft carrier battle groups to deploy around Taiwan, he said.
This means that the eastern region is facing a significant threat, with Taiwan having few options to protect itself other than its submarines and missile-carrying fighters, Chieh said.
Lin Ying-yu (林穎佑), an assistant professor at Tamkang University's Institute of Strategic Studies, said the Shandong's participation in the PLA's ongoing drills meant that eastern Taiwan is no longer a safe haven for Taiwanese military forces during an invasion.
The PLA's landing and take-off drills on the Shandong were meant to test its capacities in anti-access/area denial should the US attempt to interfere in a cross-strait war, Lin said.
For Taiwan's safety, it must boost its submarine forces so that it can work with US forces to stop a PLA invasion, he added.
The Shandong is China's second aircraft carrier, and the first to be entirely built by its domestic shipbuilding industry. It was commissioned into the PLA Navy on Dec. 17, 2019, in Sanya.
China launched its first aircraft carrier, the Liaoning, in 2012. The vessel is a refurbished Soviet Kuznetsov-class cruiser carrier purchased in an incomplete state.
Comments will be moderated. Keep comments relevant to the article. Remarks containing abusive and obscene language, personal attacks of any kind or promotion will be removed and the user banned. Final decision will be at the discretion of the Taipei Times.