KMT supports Ma's '1992 consensus'
RESPONSE: In China, Ma referenced the ROC and the Constitution of the ROC, and referred to himself as a former ROC president, Eric Chu said
Chinese Nationalist Party (KMT) Chairman Eric Chu (朱立倫) yesterday said that he agreed with the stance of former president Ma Ying-jeou (馬英九) regarding the so-called "1992 consensus," and that Ma's trip to China demonstrated that both sides of the Taiwan Strait should strive to seek common ground while setting aside differences.
Ma on Friday ended a 12-day trip to China, saying that he had shown that cross-strait exchanges and dialogue were achievable by sticking to the "1992 consensus."
The "1992 consensus" refers to a tacit understanding between the KMT and the Chinese Communist Party (CCP) that both sides of the Strait acknowledge there is "one China," with each side having its own interpretation of what "China" means.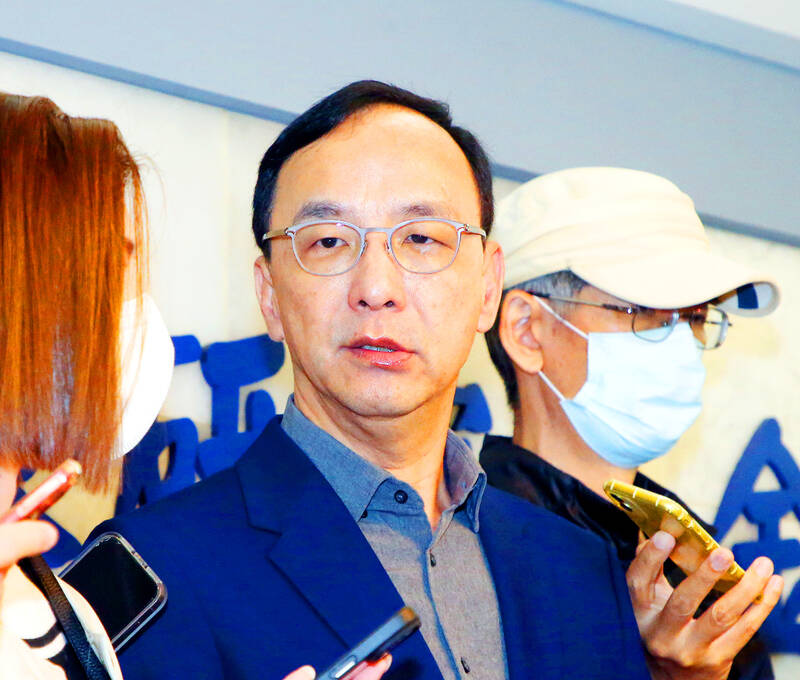 Chinese Nationalist Party (KMT) Chairman Eric Chu, center, speaks to reporters in Taipei yesterday.
Photo: CNA
The Democratic Progressive Party does not acknowledge the existence of the "consensus." Former Mainland Affairs Council chairman Su Chi (蘇起) in 2006 admitted that he made up the term in 2000 to break the cross-strait deadlock and alleviate tension.
However, Ma made multiple mentions of the Republic of China (ROC) and the Constitution during his travels in China, saying that he was a former president of the ROC, Chu said.
Some people in the pan-green camp have chosen to be blind and deaf to such instances, Chu said.
"Maybe our friends in the pan-green camp see the ROC as a pro-Taiwan, independent ROC, and seek to undermine the entirety of the ROC without acknowledging that the ROC Constitution still exists," he said.
After Ma on his trip said that "both Taiwan and the mainland are the Republic of China, both are China," President Tsai Ing-wen (蔡英文) responded by saying that the remarks were anachronistic.
However, Tsai should brush up on the Constitution and the Act Governing Relations Between the People of the Taiwan Area and the Mainland Area (台灣地區與大陸地區人民關係條例), Chu said.
As president, Tsai should lead by example and abide by the Constitution, he added.
Ma defined the country using the ROC Constitution, and one cannot ask for more, KMT Legislator Johnny Chiang (江啟臣) said on Friday.
There is no doubt that Ma's "one China" rhetoric in China referred to the ROC, KMT Legislator Hung Meng-kai (洪孟楷) said.
We should not say that we are willing to respect the US' "one China" policy while not respecting Ma's, Hung said.
Ma's trip was one "that sought to avert war," and it is an "improved version" of the "1992 consensus," KMT Legislator Lin Wei-chou (林為州) said.
Comments will be moderated. Keep comments relevant to the article. Remarks containing abusive and obscene language, personal attacks of any kind or promotion will be removed and the user banned. Final decision will be at the discretion of the Taipei Times.