Ma emphasizes '1992 consensus' on China trip
Former president Ma Ying-jeou (馬英九) yesterday emphasized the so-called "1992 consensus" during a meeting with China's Taiwan Affairs Office Director Song Tao (宋濤) in Wuhan.
Ma told Song that during his administration, both sides of the Taiwan Strait accomplished smooth cross-strait travel and exchanges on the basis of the "1992 consensus," benefiting people on both sides.
The "1992 consensus" — a term that former Mainland Affairs Council chairman Su Chi (蘇起) in 2006 admitted making up in 2000 — refers to a tacit understanding between the Chinese Nationalist Party (KMT) and the Chinese Communist Party that both sides of the Taiwan Strait acknowledge that there is "one China," with each side having its own interpretation of what "China" means.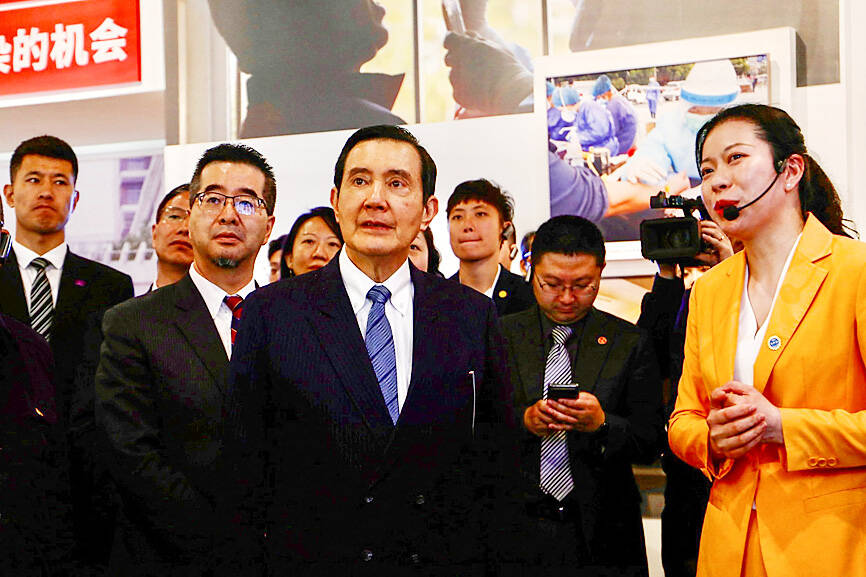 Former president Ma Ying-jeou, center, yesterday visits the Wuhan City Archives in Hubei Province, China.
Photo: AFP
Ma said that when he met "Mr Xi [Jinping]" (習近平), China's president, in Singapore in 2015, they both recognized the importance of the "consensus."
The goal of the meeting was to show the world that cross-strait issues can be resolved peacefully by both sides on their own, he said.
Song conveyed Xi's greetings and best wishes to "Mr Ma Ying-jeou," and welcomed other "Taiwan compatriots" to visit.
Ma has always believed in the revitalization of China, during his tenure working to promote peaceful development of cross-strait relations based on the "1992 consensus" and opposition to Taiwanese independence, he said, using the ethnic term "Zhonghua" for China.
"We are one family and no one can separate us," he added.
Song was later to accompany the former president from Hubei Province to Hunan Province, where he is to pay his respects to his ancestors in Changsha this afternoon.
Earlier yesterday, Ma added a stop on his itinerary to visit an exhibition on Wuhan's response to the COVID-19 pandemic at the Wuhan City Archives.
Most of the exhibit describes how Xi "took the helm" in the fight against COVID-19, as well as descriptions of makeshift hospitals and nationwide collaboration.
The docent also commented on conditions for Taiwanese in Wuhan, to which Ma replied: "I'm sorry, our government made things difficult for you."
Speaking to reporters after the visit, Ma said that under the leadership of Wuhan Jinyintan Hospital president Zhang Dingyu (張定宇), the pandemic was prevented from spreading widely in its early stages.
His was not only a contribution to China, but to the world, he added.
Asked about the future of cross-strait exchanges, Ma said that everyone is working hard to bring the pandemic to an end, so there is plenty of room for cooperation.
Hopefully a medical technology cooperation agreement between Taiwan and China could be put to good use, he added.
In Taipei, Democratic Progressive Party spokesman Cho Kuan-ting (卓冠廷) blasted Ma over his comments.
To cozy up to Xi, Ma is singing the praises of the Chinese Communist Party's COVID-19 response while excusing its sins, Cho said.
Deputy Minister of Health and Welfare Victor Wang (王必勝), who heads the Central Epidemic Command Center, told reporters that Ma was speaking from the Chinese people's point of view, and as such, he would respect it.
Public health and immigration personnel did their duty in the early stages to keep the virus from entering Taiwan from China, said Wang, who was involved in evacuating Taiwanese from Wuhan during the initial outbreak in 2020.
Those who helped bring Taiwanese back from Wuhan were extremely brave and deserving of praise, he said, adding that "we did not make things difficult for anyone."
"I don't know where the 'contributions' were, but I do know that this was a catastrophe for humanity," he added.
Additional reporting by Chen Cheng-yu
Comments will be moderated. Keep comments relevant to the article. Remarks containing abusive and obscene language, personal attacks of any kind or promotion will be removed and the user banned. Final decision will be at the discretion of the Taipei Times.