Former KMT lawmaker out on bail in fraud probe
Former Chinese Nationalist Party (KMT) legislator Yen Kuan-heng (顏寬恒) was yesterday released on NT$10 million (US$328,353) bail after police searched his mansion in Taichung's Salu District (沙鹿) on suspicion of fraud.
Yen's wife, Chen Li-ling (陳麗淩), was released after posting bail of NT$5 million.
Taichung prosecutors, investigators and police on Tuesday searched the mansion and summoned the couple for questioning.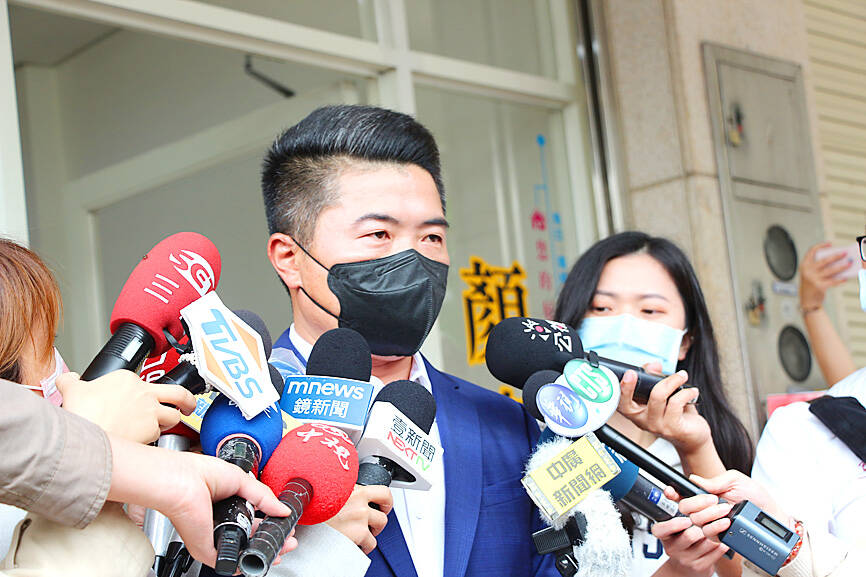 Former Chinese Nationalist Party legislator Yen Kuan-heng, center, speaks with reporters in Taichung yesterday.
Photo: CNA
Yen sold the mansion for NT$45 million, considered to be below market price, to Taichung-based Jazz Space Design (澤序空間設計) in the run-up to a legislative by-election in January last year, which he lost to the Democratic Progressive Party's Lin Ching-yi (林靜儀).
Controversy surrounded Yen during the by-election campaign, as he reportedly has more than 70 properties, while questions arose about how his family acquired the plots and obtained the permits to build the sprawling mansion, part of which is on public land.
Authorities on Tuesday also took in four people working at Jazz Space Design — its owner, architect and two employees — saying that all six suspects are facing pending charges of forgery, illegal acquisition of public land and related charges.
Yen said the investigation was politically motivated, as the search came after he registered with the KMT last week to run in next year's legislative election against Lin.
However, prosecutors yesterday said they have sufficient evidence to press charges following a year-long investigation.
Prosecutors said they also questioned National Property Administration staff on suspicion of forging papers and receiving kickbacks to approve the mansion's transaction deal.
A preliminary investigation found that the transaction was fraudulent and involved suspected collusion by National Property Administration staff, they said.
Yen and his wife are still in control of the property, prosecutors said, adding that the fraudulent transaction aimed to avoid questions about how the couple acquired public land and obtained approval for construction, as well as other illegal aspects related to the mansion.
The New Power Party (NPP) in statement condemned Yen, saying that "it is well-known that the Yen family represents 'black gold' politics. They use their wealth, political clout and the threat of violence to accumulate vast property holdings."
"The Yen family has been embroiled in numerous controversies since the patriarch, Yen Ching-piao (顏清標), was elected councilor and later legislator. The older Yen has been indicted for running gambling rackets and served a prison term for using public funds for entertainment expenses at nightclubs," it said.
"He passed the torch to his son, and daughter Yen Li-min (顏莉敏), both of whom have been investigated for unlawful acquisition of public land, illegal construction and abuse of public office for personal profit. All of these cases are known to the public and have been shown in media reports," it said.
The NPP also accused the KMT of flouting its own stated aims.
"We ask the KMT not to nominate Yen Kuang-hen, a man with a record of misconduct and illegal activities... The KMT ... has promised to dissociate itself from 'black gold' and gangsters, yet it keeps Yen as a member and nominates him for legislative elections," the NPP said.
Comments will be moderated. Keep comments relevant to the article. Remarks containing abusive and obscene language, personal attacks of any kind or promotion will be removed and the user banned. Final decision will be at the discretion of the Taipei Times.