No Tsai meetings planned: US official
CHINESE DISRUPTIONS? A call to action has been circulated among Taiwanese and supporters of the nation in the US to counter expected protests prompted by Beijing
There is no plan for any US officials to meet with President Tsai Ing-wen (蔡英文) during her transit stops in the US on the way to and from two of Taiwan's diplomatic allies, US National Security Council spokesman John Kirby told reporters on Tuesday.
Kirby described Tsai's visit as "unofficial" and "private," saying there are no plans for government officials to meet with her during her time in the US.
It would be the seventh transit Tsai has made in the US during her time in office and such arrangements are not uncommon, he said.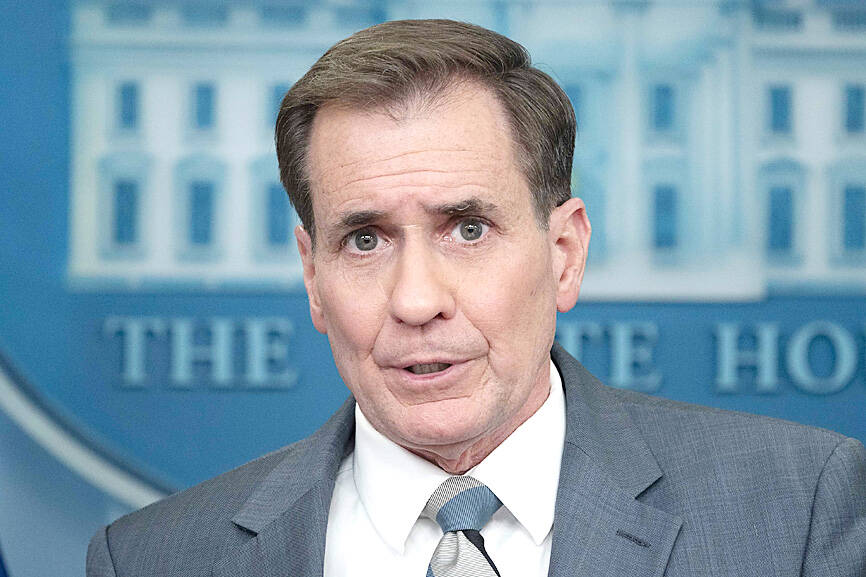 US National Security Council spokesman John Kirby speaks at a news conference in the James Brady Press Briefing Room in the White House in Washington on Wednesday last week.
Photo: EPA-EFE
Tsai departed Taiwan for Guatemala and Belize yesterday, with stops planned in the US for both legs of the 10-day trip to Central America.
She was expected to arrive in New York yesterday US time before traveling to Guatemala and Belize, then spend time in Los Angeles before returning to Taiwan on Friday next week.
Tsai is to receive an award from the Washington-based Hudson Institute during her New York stopover.
Media have previously reported that she is to meet with US House of Representatives Speaker Kevin McCarthy and deliver a speech at the Ronald Reagan Presidential Library in California.
A national security insider told the Central News Agency that Beijing has instructed its embassies to organize disruptive protests during Tsai's time in New York and Los Angeles.
Citing Taiwanese and US intelligence, the official said that the Chinese Ministry of Foreign Affairs ordered its consulates in the two cities to mobilize overseas Chinese, members of the China Council for the Promotion of Peaceful National Reunification and others to disrupt the visits.
A call to action has been circulating among Taiwanese and supporters of the nation in the cities to counter the expected protests.
Democratic Progressive Party (DPP) Legislator Wang Ting-yu (王定宇) wrote on Facebook that China was acting like a "gangster state."
DPP Legislator Chao Tien-lin (趙天麟) told reporters that when he transited in the US with Tsai four years ago, disruptive protesters likely mobilized by the Chinese government were stationed across from their hotel.
They did not affect the president's itinerary, but they did cast China in a bad light for engaging in "gangster-like" activity, Chao said.
Addressing the Chinese authorities, he said that it would be unwise to once more engage in such activities, especially when it left such a bad impression last time.
Meanwhile, commenting on the announcement on Sunday by Honduras that it is switching diplomatic ties from Taiwan to China, Kirby said that Tegucigalpa's action was a "sovereign decision" and would not affect Tsai's transits in the US.
China has proven itself an "unreliable partner," Kirby said, adding that he suspects Honduras understood that when it made the decision to switch recognition to Beijing.
The US values its bilateral relations with Honduras and would continue to maintain ties with Tegucigalpa, he said.
US Department of State spokesman Vedant Patel on Tuesday said that US Secretary of State Antony Blinken expressed appreciation for the "principled commitment" to Taiwan from Paraguay, one of the 13 UN-recognized states that still recognize Taipei, when he met with Paraguayan Minister of Foreign Affairs Julio Arriola in Washington on Monday.
Blinken said that democracies need to stand together to take on those seeking to suppress freedom and abuse human rights.
Comments will be moderated. Keep comments relevant to the article. Remarks containing abusive and obscene language, personal attacks of any kind or promotion will be removed and the user banned. Final decision will be at the discretion of the Taipei Times.