CDC urges caution against dengue fever
TRAVELERS BEWARE: The number of imported dengue fever cases has increased from the past two years after Taiwan reopened its borders, the CDC's Philip Lo said
The Centers for Disease Control (CDC) yesterday reported three serious cases of flu complications and one flu-related death, and advised people to take precautions when traveling, as the number of imported dengue fever cases this year has been higher than the past two years.
Hospital visits for 45,514 flu-like illnesses were reported last week, which is about the same as the previous few weeks, CDC Epidemic Intelligence Center Director Guo Hung-wei (郭宏偉) said.
Of the strains identified by contracted laboratories, the influenza A (H3N2) virus accounted for the most cases, Guo said.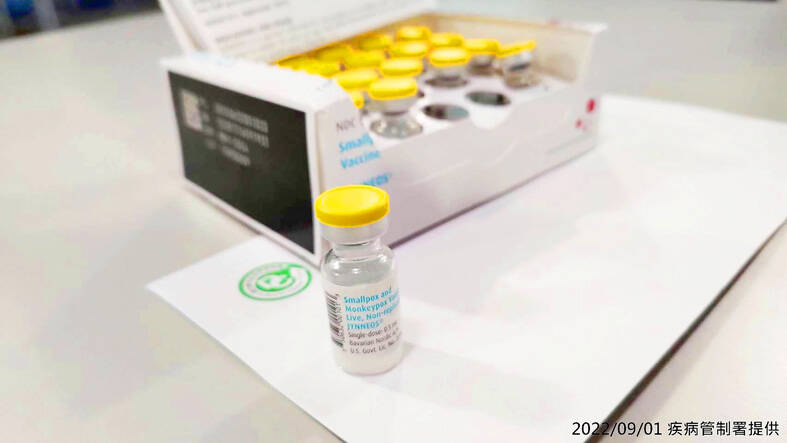 Vials of mpox vaccine are pictured on Sept. 1 last year.
Photo courtesy of the Centers for Disease Control
The three serious flu cases confirmed last week are all men, aged between 50 and 80, who had underlying health conditions, and all were infected with H3N2, he said, adding that a total of 67 serious flu complications, including 14 deaths, have been confirmed this flu season.
CDC physician Chao Pei-jiuan (趙珮娟) said the deceased person reported yesterday was a man in his 60s who had chronic liver disease and was not vaccinated this flu season.
He died of pneumonia and respiratory failure five days after the onset of symptoms, Chao said, urging people at high risk of severe complications to seek immediate medical attention when signs of serious illness occur.
CDC Deputy Director-General Philip Lo (羅一鈞) said the 14 people who died this season were all unvaccinated against the flu and had underlying health conditions.
Lo said imported cases of dengue fever and chikungunya fever have been higher than the same period in the past two years, due to the reopening of the nation's borders.
People should take precautions to prevent mosquito bites when traveling to places where the diseases are spreading, Lo said.
Guo said no locally acquired dengue fever cases have been reported, but dengue cases reported in Southeast Asian countries, including Vietnam, the Philippines, Thailand, Singapore and Malaysia, are all higher than the same period in the previous two or three years.
He said four new local cases and one imported case of mpox (formerly known as monkeypox) were confirmed last week, and that 21 cases — 14 local and seven imported — have been confirmed since June last year.
Lo said that while no connection has been found among the local cases, contact tracing to find possible links has become more difficult, as online discussion has stigmatized certain groups of people, so patients are less willing to reveal information.
Since mpox vaccinations began on Wednesday last week, 583 people have been vaccinated, including 525 people who registered online, he said.
As too many people registered for the vaccine in Taipei, two hospitals — National Taiwan University Hospital and Taipei City Hospital's Heping branch — would be added to the vaccination facilities in the city, he added.
The next batch of vaccines, containing 10,000 vials, is expected to arrive tomorrow at the earliest, Lo said, adding that they will go through lot release testing during the Tomb Sweeping Day long weekend.
The center would talk with local governments about expanding vaccination sites to at least one in each city and county, he said, adding that registration would be announced after the long weekend.
Separately, Lo, who is also the Central Epidemic Command Center's (CECC) spokesperson, said starting from today, the CECC would no longer report daily cases of COVID-19, but only update the data on its Web site.
Weekly accumulated cases and analysis would be reported at the CECC's weekly news conference, he added.
Comments will be moderated. Keep comments relevant to the article. Remarks containing abusive and obscene language, personal attacks of any kind or promotion will be removed and the user banned. Final decision will be at the discretion of the Taipei Times.