Baboon's death sparks finger pointing
CLAIMING IGNORANCE: It was not clear who ordered a hunter to shoot a runaway baboon, with two local governments and a private zoo implicated in the killing
The remains of a deceased baboon that had run free in Taoyuan for 18 days were received yesterday by Taipei Zoo after it was shot during an attempted capture, as the shooter and officials denied responsibility.
The Forestry Bureau said that an autopsy is to be carried out today and the results are expected in 10 to 14 days.
The baboon, first sighted in Taoyuan's Pingjhen District (平鎮), was shot on Monday by a hunter surnamed Lin (林) after being trapped in a building by local residents.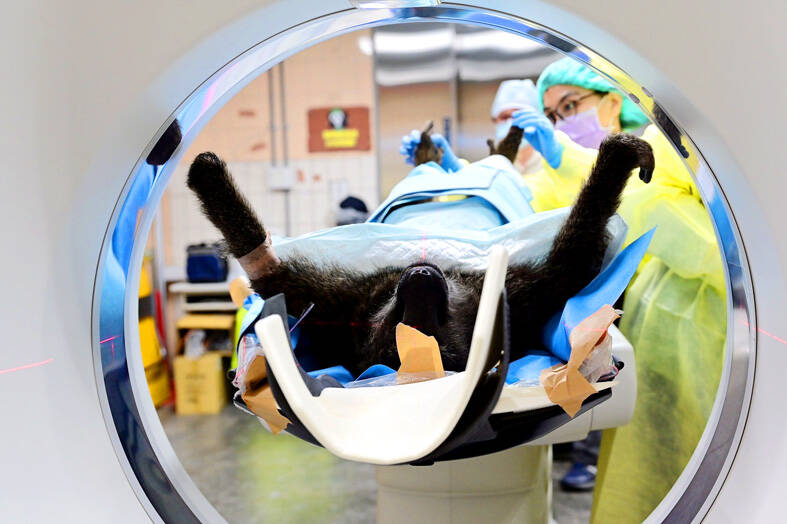 A captured baboon that died from a gunshot wound is examined by Taipei Zoo veterinarians yesterday.
Photo courtesy of the Forestry Bureau
It has yet to be determined to whom the baboon belonged.
Lin said in a statement that he had been hired by the Hsinchu County Agriculture Department. The county was worried that the baboon, which was last sighted in Taoyuan's Fugang (富岡) area in Yangmei District (楊梅), was close to the Taoyuan-Hsinchu border and might cross into Hsinchu County.
Lin said he immediately made his way to Fugang from Hukou Township (湖口).
He said his truck was clearly labeled that he is a contract hunter for removing invasive species.
"I told them that if I were to shoot, it would be over," he said.
The Hsinchu County Government rebutted Lin's claims, saying that while it did reach out to Lin, at the time of contact the response they received was that Lin was already "on site."
"We do not know why Lin would go to the area, and we are not sure who gave the order, but we are confident that we would not order Lin to act outside of Hsinchu jurisdiction," Hsinchu County Agricultural Department Deputy Director-General Fu Chi-mei (傅琦媺) said.
The Taoyuan City Government also said it did not know who contacted Lin, adding that when Lin entered the building, he was not accompanied by Taoyuan Department of Agriculture officials.
However, Lin said that the Taoyuan City Government was in the know all along, as city officials called him in for questioning afterward.
Lin claimed that he had sought permission before shooting, learning only afterward that the man who gave him approval, whom he thought was from the Taoyuan Department of Agriculture, was allegedly from Leofoo Village Theme Park.
The park denied Lin's claims, stating that their veterinarian had only entered the building after the shot had gone off.
The park also said it acted entirely under the Taoyuan City Government's orders, adding that it did not know which agency hired Lin.
After questioning all sides involved, the Taoyuan City Police Department's Yangmei Precinct forwarded the case to the Taoyuan District Prosecutors' Office for further investigation on charges of contravening Item 1, articles 18 and 41 of the Wildlife Conservation Act (野生動物保育法).
Taoyuan Department of Agriculture special committee member Lu Chi-ye (盧紀燁) tendered his resignation over the incident, which was approved by the city government last night.
Lu was questioned earlier in the day by the Taoyuan City Council, as he had been photographed posing with the baboon after its capture and apparently had no expertise in wildlife protection.
Department Director-General Chen Kuan-yi (陳冠義) also sent a request to Taoyuan Mayor Simon Chang (張善政) to receive punishment for poor supervision.
The city government said that Chang has asked the department to file a report on the incident as soon as possible.
Additional reporting by Yang Yuan-ting
Comments will be moderated. Keep comments relevant to the article. Remarks containing abusive and obscene language, personal attacks of any kind or promotion will be removed and the user banned. Final decision will be at the discretion of the Taipei Times.