Minister outlines plans to address challenges at sea
Taiwan will enhance international collaboration and launch new initiatives to tackle maritime challenges amid uncertainty due to regional issues, Ocean Affairs Council (OAC) Minister Kuan Bi-ling (管碧玲) said on Saturday, the first day of an international event at the National Science and Technology Museum in Kaohsiung at which organizers called for volunteers to join the Taiwan International Ocean Youth Volunteer program.
Pollution and transnational criminal rings involved in human trafficking are issues that maritime authorities have to address, as is aggressive expansion of a "maritime hegemony" by a "neighboring military power" to upset regional stability in the Taiwan Strait and the South China Sea, Kuan said, apparently referring to China.
The OAC, the National Development Council (NDC) and the American Institute in Taiwan's (AIT) Kaohsiung Office organized the two-day event.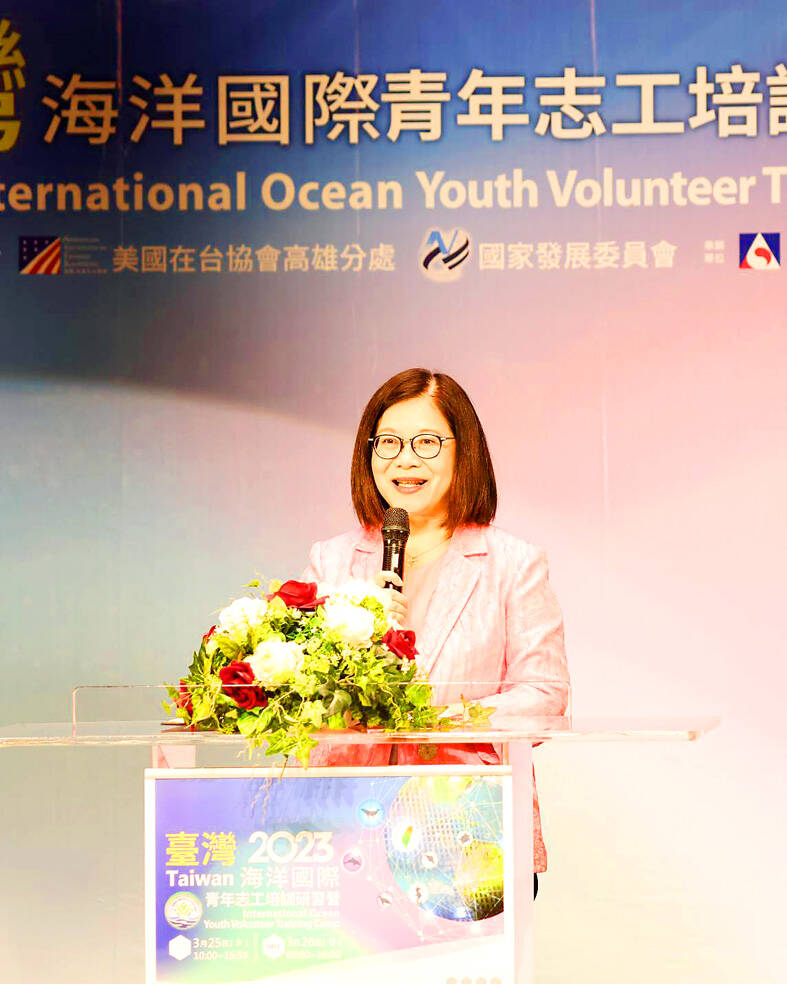 Ocean Affairs Council Minister Kuan Bi-ling addresses an event at the National Science and Technology Museum in Kaohsiung on Saturday.
Photo courtesy of the Ocean Affairs Council
Kuan outlined the OAC's four main policy initiatives to tackle the challenges and safeguard the seas around Taiwan: combating pollution, removing solid waste, conserving marine creatures and their habitats, and developing maritime industries.
She said that she has been pushing lawmakers to expedite approval of a draft national marine conservation bill, as well as amendments to the Coastal Zone Management Act (海岸管理法) and the Taiwan Marine Industry Development Regulations (台灣海洋產業發展條例).
She thanked AIT officials for helping to organize the event, which would allow more young people from Taiwan and abroad to be involved in marine geology and environmental protection, and to tackle issues such as the effect of climate change on sea level, coral and fish stocks.
This event and others like it promote international exchanges and benefit scientists across disciplines, she said.
The event is conducted mainly in English to encourage attendees to improve their language abilities as part of the NDC's plan as Taiwan works to become a bilingual nation, she said.
More than 300 people from Taiwan and elsewhere attended the opening ceremony, including academics, government officials, representatives of public-sector enterprises and civic groups, students and teachers from international schools, and students in Taiwan.
Among those who spoke at the event were AIT Kaohsiung public affairs officer Julius Tsai (蔡南亭), OAC officials and delegates who attended the Our Ocean Conference in Panama this month.
Shim Won-joon, a researcher from the Busan-based Korea Institute of Ocean Science and Technology, and Hong Sun-wook of the Tongyeong, South Korea-based Our Sea of East Asia Network spoke on Sunday.
The organizers were seeking volunteers to participate in ocean-related events and youth development affairs.
Comments will be moderated. Keep comments relevant to the article. Remarks containing abusive and obscene language, personal attacks of any kind or promotion will be removed and the user banned. Final decision will be at the discretion of the Taipei Times.