Tax rebate deposits to begin April 6
MULTIPLE METHODS: Online registrants have been prioritized, while ATM retrieval is to start on April 10, and post office disbursal on April 17, the digital ministry said
People who registered online for a one-time government cash payment of NT$6,000 (US$197) to be deposited into their bank accounts should begin receiving the funds starting on Thursday next week, the Ministry of Digital Affairs said on Facebook on Saturday.
Online registration for the cash handout began on Wednesday for certain people depending on their ID numbers, and continues today for all eligible people regardless of ID numbers.
People who do not register online can also receive the money from select banking machines from April 10, using an ATM card and entering their national ID or permanent residence card number, along with their national health insurance card number, the ministry said.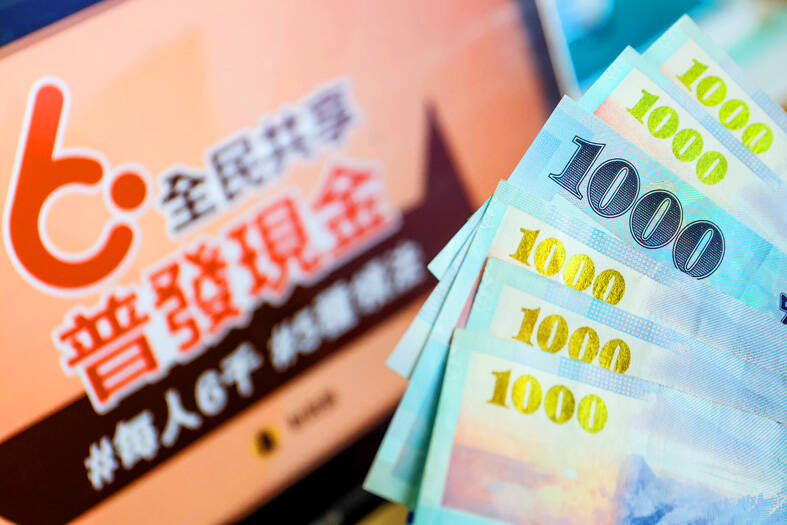 New Taiwan dollar notes are pictured in front of a poster promoting a NT$6,000 tax rebate in Taipei on March 16.
Photo: CNA
Eligible people can apply online via the government's dedicated Web site at https://6000.gov.tw.
The disbursement can also be collected at post office counters from April 17 by presenting the required ID and a national health insurance card from April 17, it said.
The deadline for claiming the handout by any method has been set at Oct. 31, the ministry said.
The only foreign nationals who are eligible for the NT$6,000 handout are permanent residents or those who reside in Taiwan with a Taiwanese spouse.
The majority of foreign nationals in Taiwan are not permanent residents, and their exclusion from the program is consistent with the policies of the COVID-19 economic stimulus voucher programs, the ministry said.
Taiwanese families expecting children from October to December can claim the cash handouts on behalf of their newborns, it said.
Parents can claim the funds in person at a local post office, provided they present the child's birth certificate before the end of January next year, it added.
The government proposed the cash handout late last year after the governing Democratic Progressive Party lost a significant amount of support in local government elections in November last year.
Presented as a tax rebate, the funds were budgeted from last year's tax surplus, which was in excess of NT$450 billion over estimates.
Much of the surplus has also been budgeted to offset losses in government agencies and the state-run Taiwan Power Co, while other parts are to finance business programs to spur economic activity.
Comments will be moderated. Keep comments relevant to the article. Remarks containing abusive and obscene language, personal attacks of any kind or promotion will be removed and the user banned. Final decision will be at the discretion of the Taipei Times.