Energy projects attracting corruption: TPP lawmakers
FIERCE COMPETITION: Local governments, state enterprises and public-sector firms are colluding for financial benefit in a race for licences, a lawmaker said
Taiwan's transformation to green energy and sustainable development is behind schedule due to corruption, Taiwan People's Party (TPP) lawmakers said on Friday.
Delays on solar and wind energy projects have been hindered by collusion between government officials, corporations and "criminal elements," they said.
The government plans to have energy from renewable sources constitute 20 percent of power generation by 2025, with carbon emissions reaching net zero by 2050. About NT$900 billion (US$29.62 billion) has been pledged toward climate change goals until 2030.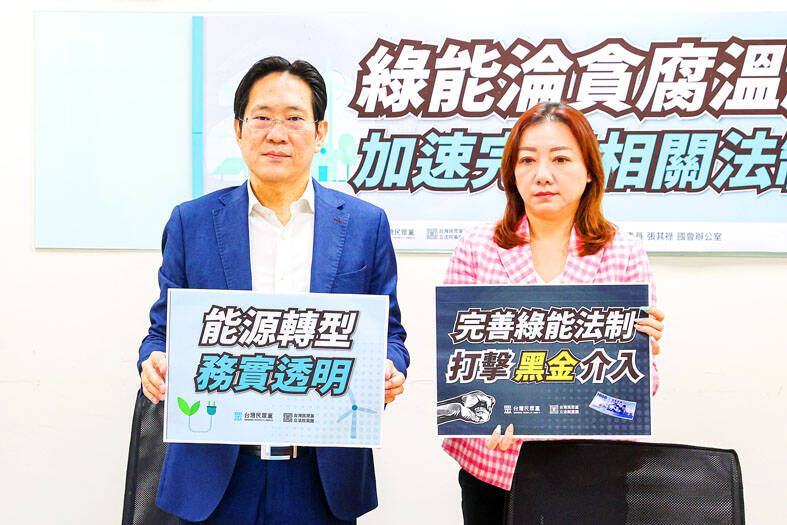 Taiwan People's Party lawmakers Jang Chyi-lu, left, and Chen Wan-hui hold placards at a news conference in Taipei on Friday.
Photo: CNA
"In the drive to push for green energy, government agencies are using solar and wind power projects to grant favors to a few big conglomerates that are colluding with criminal elements," TPP Legislator Jang Chyi-lu (張其祿) told a news conference at the Legislative Yuan in Taipei.
Conglomerates are receiving subsidies and incentives for renewable energy projects in which generated power could be sold to state-run Taiwan Power Co at high prices, he said.
These businesses have an "inside track" to "excessive profits" through "special connections to local government officials," Jang said.
There has been "fierce competition between rival parties" to gain licenses and permission, leading to collusion between "local county and city governments, local councils, state enterprises and public-sector companies" for financial benefit, he said.
The alleged collusion also involves "wealthy families with political clout, special interest bodies, gangsters and organized crime elements," in which "under-the-table deals, corruption and bribes," and even "intimidation and violence against legitimate companies and rival interests" occur, Jang said.
The end result is "rent seeking" by these entities "without reciprocal contribution of productivity," he said.
TPP Legislator Chen Wan-hui (陳琬惠) called these entities "green energy cockroaches," citing records from the High Prosecutors' Office that showed it had launched 60 investigations into alleged corruption and bribery regarding renewable energy projects, in which charges have been pressed against 66 people and 18 others were detained.
Although the intentions behind green energy projects are good, "local politicians are colluding with state enterprises and big business for corruption and illegal financial benefit," she said.
"These entities are tied to gangsters and criminal elements to form a well-connected 'green energy elite group' that profits at public expense," Chen said.
Jang and Chen called on fellow lawmakers to amend laws to provide stringent regulations to govern green energy projects and net zero emission targets.
They also urged the judiciary and law enforcement agencies to "clamp down on criminal elements" that interfere in these projects.
Comments will be moderated. Keep comments relevant to the article. Remarks containing abusive and obscene language, personal attacks of any kind or promotion will be removed and the user banned. Final decision will be at the discretion of the Taipei Times.