Sunflower probe finds police misdeeds
CONTROL YUAN REPORT: Police used excessive force to quell protests on March 24, 2014, and government agencies did not investigate the incident properly, it said
The National Police Agency (NPA) used excessive force to expel protesters, made untruthful statements about the number of injuries and shielded misconduct within its ranks, a new Control Yuan report on the government's actions during the Sunflower movement found.
The Control Yuan probe into clashes between demonstrators and police in the early morning of March 24, 2014, found multiple agencies to be at fault, Control Yuan members Fan Sun-lu (范巽綠) and Shih Chin-fang (施錦芳) told a news conference in Taipei yesterday.
Corrective notices have been issued over the failures of the police agency, the Ministry of the Interior, the Executive Yuan, the Taipei District Prosecutors' Office and the Taipei Police Department, they said.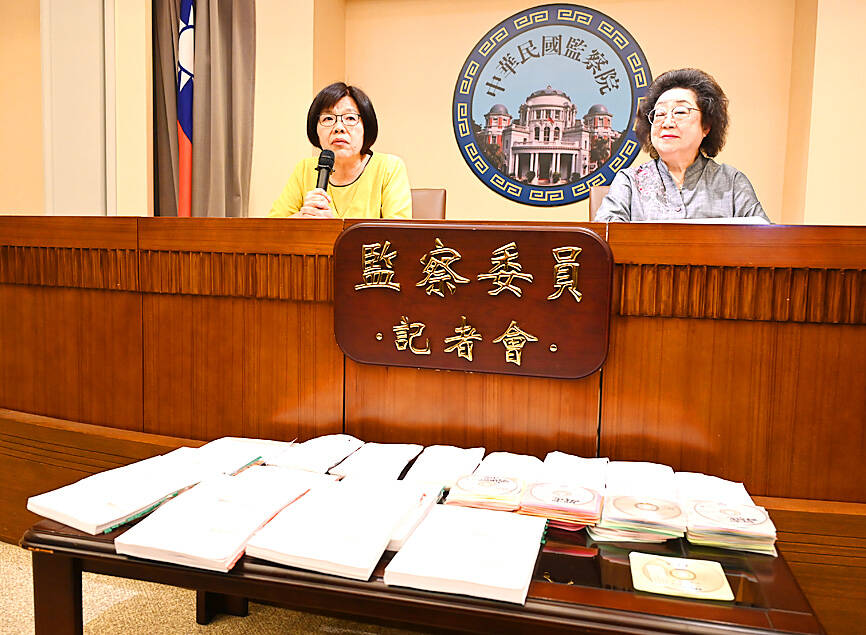 Control Yuan members Shih Chin-fang, left, and Fan Sun-lu hold a news conference at the Control Yuan in Taipei yesterday.
Photo: Wang Yi-sung, Taipei Times
Senior police officials failed to thwart the improper use of force by police as they sought to remove protesters, which led to injuries of 15 people who later sued the government and were granted compensation, they said.
Police commanders were within range to observe that officers were using batons to strike peaceful demonstrators in the head, but did nothing, the Control Yuan members said, adding that interviews with victims allowed them to reconstruct the location of events.
Citing an example, they said that a 74-year-old man surnamed Chou (周) was struck by a water cannon and then beaten with batons, resulting in multiple fractures and internal bruising in the abdomen.
He died a year after the confrontation, they said.
Former NPA deputy director-general Tsai Cang-bo (蔡蒼柏) in 2020 told the Control Yuan that 42 members of the public and 191 police officers were injured during the clashes, they said.
Hospital records for that day showed that 166 people were admitted for injuries, including four with injuries that were deemed potentially life-threatening and 73 with urgent, but not life-threatening injuries, they said.
This means the number of injuries among members of the public was 3.95 times higher than Tsai claimed, they said, adding that no police officer was admitted to hospital after the clashes.
Then-NPA director-general Chen Chia-chin (陳家欽) in 2020 told Control Yuan member Lin Yu-jung (林郁容) that police commanders who made mistakes during the clashes had been disciplined, but the agency only reprimanded one SWAT team commander from Taipei, they said.
The agency continued to take no action against officers engaged in misconduct, they said.
The Taipei District Prosecutors' Office and the police agency did not conduct a proper investigation into accusations of police brutality, they said, adding that a CD storing crucial video footage was rendered unreadable by mishandling or sabotage.
The police agency and the interior ministry should thoroughly examine and improve the training of police officers with regard to civil rights to ensure that Taiwanese do not lose trust in law enforcement institutions, they said.
Comments will be moderated. Keep comments relevant to the article. Remarks containing abusive and obscene language, personal attacks of any kind or promotion will be removed and the user banned. Final decision will be at the discretion of the Taipei Times.