NCCU to offer US border business studies in El Paso
National Chengchi University (NCCU) is planning to introduce an internship program for its students to work at Taiwanese-owned companies in the border towns El Paso, Texas, and Juarez, Mexico.
The program was created after NCCU deputy dean of student affairs Elena Ku (古孟玄), Career Development Center director Chang Wen-mei (張文美) and other faculty and staff last month visited schools and Taiwanese companies in the city on the Mexican border.
The delegation visited the University of Texas at El Paso, Ai-Hwa Chinese Language School, Inventec Corp, Wistron Corp and Pegatron Corp, among others.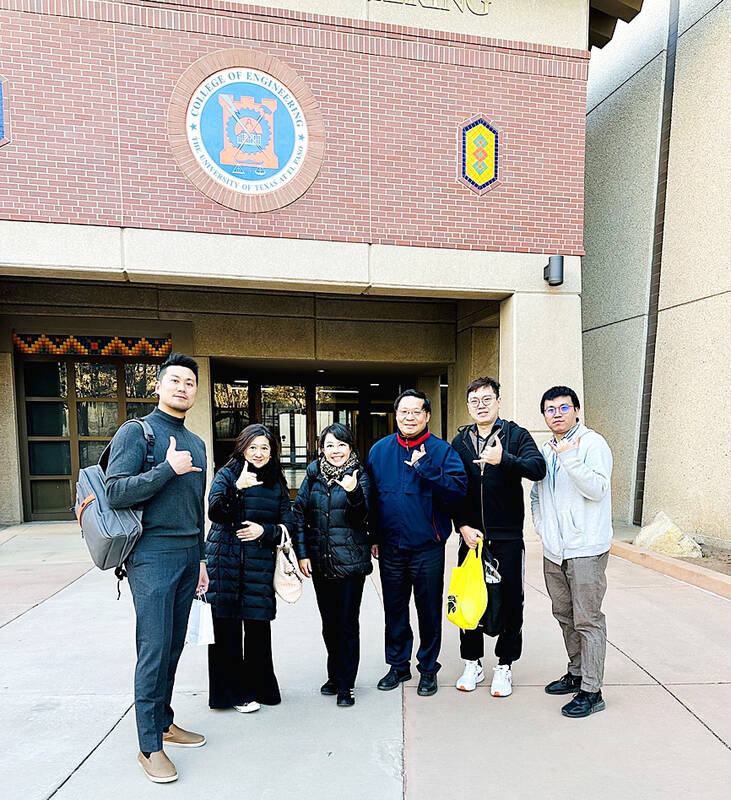 Members of a National Chengchi University delegation pose in front of the College of Engineering at the University of Texas at El Paso in an undated photograph.
Photo courtesy of National Chengchi University
Border regions in the US south since 2021 have been important hubs for Taiwanese high-tech companies, the university said.
"The university this year implemented a policy to encourage students to seek careers overseas, focusing first on the US-Mexico border," it said in a statement.
As all Beijing-funded Confucius Institutes in the US were closed, Chinese-language centers in the US have been recruiting teachers from Taiwan, the university said, adding that it would send Taiwanese teaching interns to the Ai-Hwa Chinese Language School.
Language proficiency and having a diverse and international perspective are key criteria for companies to recruit interns for their offices on the US-Mexico border, Ku said.
"We have begun planning for the internship program," Ku said, adding that the Taiwanese Chamber of Commerce in El Paso would be invited to familiarize students with the area's industry.
NCCU is also forming an academic unit for Mexican and Latin American studies, she said.
"We hope to cultivate talent that understands Latin America by facilitating partnerships between industry and the university, increasing cultural exchanges and providing language programs," she said.
Comments will be moderated. Keep comments relevant to the article. Remarks containing abusive and obscene language, personal attacks of any kind or promotion will be removed and the user banned. Final decision will be at the discretion of the Taipei Times.