African baboon sighted in Pingjhen District
ORIGIN UNKNOWN: The Leofoo Village Theme Park and Taipei Zoo have accounted for their baboons, as authorities continue a 12-day capture attempt
Authorities in Taoyuan are searching for a non-native baboon, possibly of the chacma species, that has been spotted several times in the city's Pingjhen District (平鎮) over the past 12 days, and was most recently seen in coastal Sinwu District (新屋).
The baboon was first spotted near a local factory on March 10 in central Taoyuan, Jhensing Borough Warden Huang Chih-chieh (黃志杰) said.
Huang said he requested the Leofoo Village Theme Park's help after a second sighting on Saturday.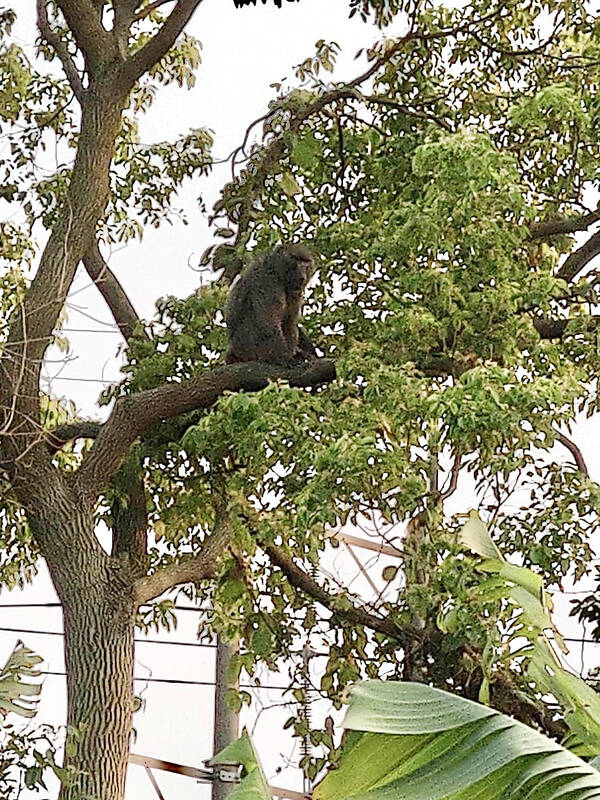 An escaped baboon is pictured in Taoyuan's Pingjhen District in an undated photograph.
Photo courtesy of Yongan Borough Warden Chen Chin-fu
In other sightings, the baboon raided fruit and vegetable gardens on private property, and has evaded one capture attempt via a tranquilizer dart.
Media reported that the animal might have escaped from Leofoo Village, which is about 12km from Pingjhen District.
However, a Leofoo Village spokesperson said that the park on Saturday took an inventory of its baboons after learning of the sightings, and found that none were missing.
Regardless, the park, "in the spirit of friendship" with the local community, sent staff to help locate and trap the baboon, the spokesperson said, adding that those efforts were ongoing.
Taipei Zoo also said that none of its baboons were missing.
The Taoyuan Animal Protection Office yesterday said that it has no record of registered baboons in the city, which means the animal was either kept there illegally or was abandoned by owners from another city or county.
The office said it has set a number of baited traps and would consider using a tranquilizer gun if necessary.
Based on reported sightings, the baboon apparently left the Jhensing area on Monday and has been moving in a northwesterly direction.
The animal on Wednesday was spotted near Meigao Road Sec 3 in Taoyuan's northwest coastal Sinwu District.
A Leofoo Village employee who spotted the baboon said that it appears to weigh about 20kg and is about 110cm tall on its hind legs. By comparison, native Formosan rock macaques weigh 5kg to 12kg.
While initial reporting identified the animal as an olive baboon, the Forestry Bureau yesterday said that it was most likely a chacma. Both species are native to Africa.
The public should stay at least 10m away from the baboon and eye contact should not be made, Taipei Zoo African animals specialist Cheng Wei-jen (鄭惟仁) said, adding that authorities should be contacted immediately if it is spotted.
Illegally keeping protected animals as pets is subject to a fine ranging from NT$10,000 to NT$50,000, as per the Wildlife Conservation Act (野生動物保育法).
Additional reporting by Wei Chin-yun
Comments will be moderated. Keep comments relevant to the article. Remarks containing abusive and obscene language, personal attacks of any kind or promotion will be removed and the user banned. Final decision will be at the discretion of the Taipei Times.