APT fined millions after its numbers used by scammers
Asia Pacific Telecom (APT) has been fined NT$4.5 million (US$147,415) for failing to thoroughly check the identity of telecom service applicants, resulting in their phone numbers being exploited by scammers, the National Communications Commission (NCC) said yesterday.
NCC Vice Chairman and spokesman Wong Po-tsung (翁柏宗) said that the commission fined the telecom for three contraventions of the Telecommunications Management Act (電信管理法).
It was fined NT$1.5 million for failing to authenticate the identities of subscribers to its corporate text messaging service, he said.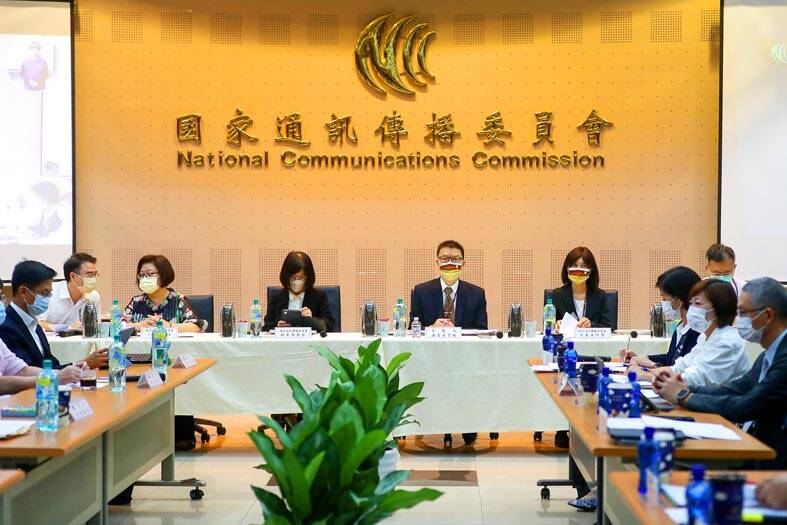 The National Communications Commission holds a hearing at its offices in Taipei on Sept. 30 last year.
Photo: CNA
One of the telecom's subscribers, "All-Round Management and Investment Consulting Co," applied to have 155 mobile phone numbers assigned to the company, Wong said.
"An investigation by the National Police Agency found that 70 of the assigned phone numbers were used to distribute text messages for investment scams, which resulted in many people suffering substantial financial losses. As such, the telecom was fined NT$2.5 million," he said.
Another corporate subscriber, Hong Kong-based Starlink Media Co, filed an online application to have mobile phone numbers assigned to it, Wong said.
However, APT neither dispatched personnel to verify the identity of the corporate subscriber in Hong Kong, nor did it ask it to present the original copies of identification documents, he said, adding that the telecom was fined NT$500,000 for this case.
NCC officials said the scams conducted using the mobile phone numbers assigned to All-Round Management and Investment Consulting resulted in financial losses of more than NT$100 million.
APT is obligated to verify the identities of corporate subscribers, as the numbers assigned to them are used by unspecified third parties, the officials said.
"Telecoms should manage the phone numbers assigned to them by the NCC and ensure they are not put to any illegal use," the officials said.
Comments will be moderated. Keep comments relevant to the article. Remarks containing abusive and obscene language, personal attacks of any kind or promotion will be removed and the user banned. Final decision will be at the discretion of the Taipei Times.