US 'respects' China relations decision: Honduran official
The US government said it "respects" Honduras' decision to move toward establishing formal diplomatic ties with China, the Honduran foreign minister said on Monday after a meeting with US officials, comments Taiwan disputed.
Honduran President Xiomara Castro made "general comments" on the decision during the meeting attended by officials such as US Special Presidential Adviser for the Americas Chris Dodd, Honduran Minister of Foreign Affairs Eduardo Enrique Reina said.
Castro last week announced that the country would seek diplomatic ties with Beijing, a move that risks further reducing Taipei's pool of allies, as China does not allow countries with which it has diplomatic relations to maintain official ties with Taiwan.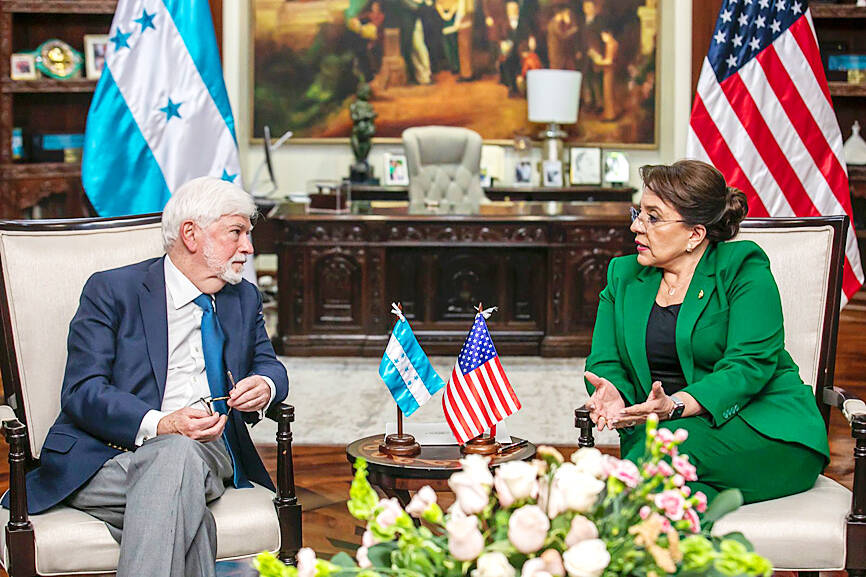 US Special Presidential Adviser for the Americas Christopher Dodd, left, speaks with Honduran President Xiomara Castro in Honduras on Monday.
Photo: Screen grab from the Honduran government's Twitter account
The US Department of State had warned Honduras that China makes many promises that are unfulfilled.
Reina has said that the pivot to China was partly because Honduras was "up to its neck" in financial challenges and debt — including US$600 million it owes Taiwan.
In Taipei, Vice Minister of Foreign Affairs Alexander Yui (俞大?) yesterday said that Reina's remarks had "some inconsistencies" with the facts and Taiwan had "some understanding" of what happened in that meeting with US officials, although he added that he could not go into details.
US officials have said that Taiwan is a good partner and that Honduras should not fall into China's "trap," Yui said.
Taiwan is a friend of Honduras and it follows through on its promises, but it has clearly told the country it will not play dollar diplomacy with China, he said.
"It's they who are playing checkbook diplomacy, not us," he said, adding that Taipei has repeatedly warned Tegucigalpa not to believe Beijing's promises.
President Tsai Ing-wen (蔡英文) will visit Guatemala and Belize on a trip at the end of this month, but while talks with Honduras continue it is "not appropriate" for Tsai to visit the country, Yui said.
Taiwan Vice President William Lai (賴清德) visited Honduras last year for Castro's inauguration.
The Minister of Foreign Affairs yesterday added that Taiwan's other allies including Paraguay had reaffirmed they were standing by Taipei.
Since 2016, when Tsai was elected president, Panama, the Dominican Republic, El Salvador and most recently Nicaragua have opted to establish relations with China.
Comments will be moderated. Keep comments relevant to the article. Remarks containing abusive and obscene language, personal attacks of any kind or promotion will be removed and the user banned. Final decision will be at the discretion of the Taipei Times.