MOFA lauds US support in letters to states and cities
The Ministry of Foreign Affairs (MOFA) yesterday thanked US agencies for sending letters to US governors, mayors and businesses encouraging them to boost ties with Taiwan.
The American Institute in Taiwan on Monday published the letters sent by the US departments of agriculture, commerce and state on Feb. 28 in response to inquiries about "how US state and local governments can conduct outreach to Taiwan."
"Taiwan is a vital US partner and a democratic success story," they said in the letters, which called on state and local governments to "take advantage of all the opportunities that our shared values and robust relationship with Taiwan offer."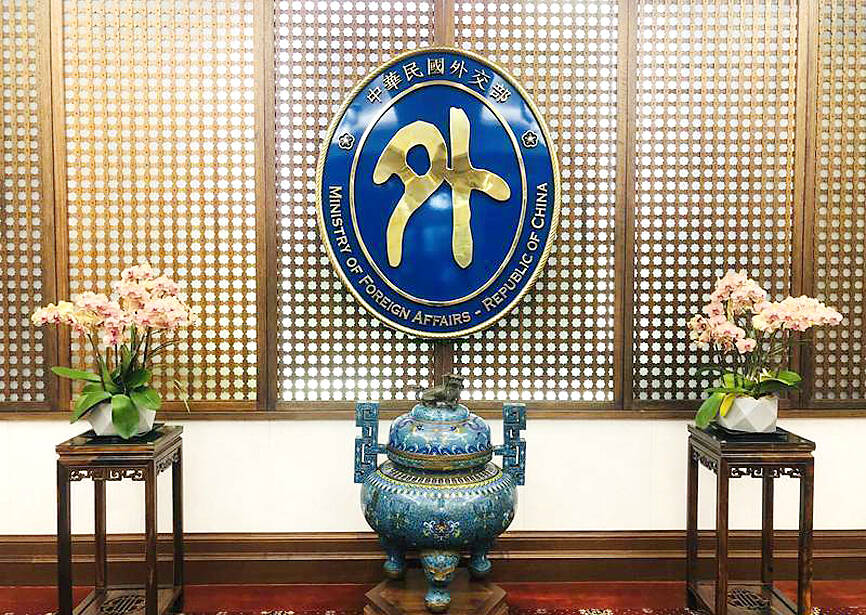 The Ministry of Foreign Affairs emblem is pictured on March 11.
Photo: Lu Yi-hsuan, Taipei Times
Expanding ties with Taiwan in trade, education, investment and tourism is "fully compatible with and supports US policy and can be beneficial to your state or municipality," they said.
"State and local governments are well-positioned to deepen US economic and cultural ties with Taiwan in ways that benefit their residents," as Taiwan is the US' eighth-largest trading partner and seventh-largest market for agricultural exports, they said.
Taiwan is a member of the US' Visa Waiver and Global Entry programs and is also the country's sixth-largest source of international students, they added.
Washington's unofficial relations with Taipei flourish under its "one China" policy, which "encourages commercial, cultural and other engagement with Taiwan," the letters said.
The departments said they would assist local governments in boosting cooperation with Taiwan and provided a document detailing the relationship between the US and Taiwan.
In letters addressed to CEOs and business leaders, the departments said that "we hope to continue to deepen our economic and cultural ties with Taiwan, and believe commercial engagement is key to such progress."
As a key player in the international trading system, Taiwan has robust ties with the US and its businesses, they said, adding that the government "does not dictate how private companies choose to label Taiwan."
Following similar letters sent to governors and the top 500 US firms in September 2019, the letters embody the US' promise to bolster US-Taiwan ties, MOFA said in a statement yesterday.
Local-level interactions between Taiwan and the US have increased in the past few years, it said, citing Indiana Governor Eric Holcomb, then-Arizona governor Doug Ducey and Idaho Governor Brad Little's visits to Taiwan last year.
Minnesota, Pennsylvania and West Virginia have established or reopened offices in Taiwan, while an Arizona office is expected to begin operations soon, all of which can help deepen relations with Taiwan, it said.
The ministry will continue to promote cooperation and exchanges with the governments, businesses and civic groups in the US and forge closer relations on various levels and areas, it added.
Comments will be moderated. Keep comments relevant to the article. Remarks containing abusive and obscene language, personal attacks of any kind or promotion will be removed and the user banned. Final decision will be at the discretion of the Taipei Times.