Positive cases advised to stay at home
MANDATORY ISOLATION ENDS: People with mild symptoms should practice self-health management for at least five days and until they test negative, the CECC said
People who test positive for COVID-19 are advised to stay at home until symptoms have cleared, despite the lifting of rules that required mandatory isolation, Centers for Disease Control Deputy Director-General Philip Lo (羅一鈞) said yesterday.
Starting today, people with asymptomatic or mild COVID-19 would not need to have their case reported by a doctor, nor would they need to undergo mandatory isolation, but practicing the "0+N" rule is advisable, said Lo, who is also Central Epidemic Command Center (CECC) spokesperson.
This would not entail mandatory self-isolation, but practicing self-health management until testing negative, he said.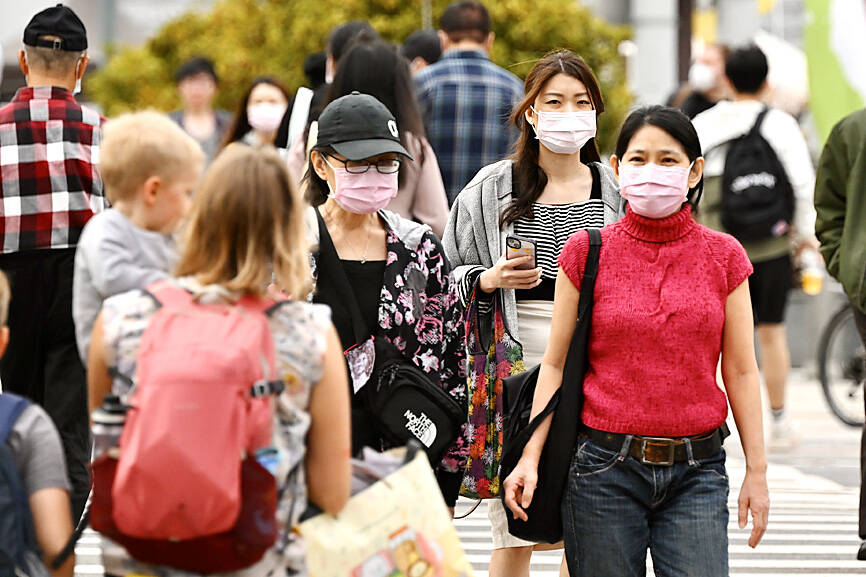 People wearing masks cross a street in Taipei yesterday.
Photo: George Tsorng, Taipei Times
When asked about a physician's suggestion that confirmed cases should still self-isolate until testing negative, Lo said people can adhere to the advice, but that the CECC would still recommend the "0+N" rule, which is a policy that has been discussed with many experts.
The CECC advises people with mild COVID-19 to stay at home and rest until symptoms have lessened, and only leave home for necessary outings, such as for seeking medical attention, picking up medication or shopping for necessary items, he said.
People who tested positive for COVID-19 yesterday or earlier are still subject to the "5+N" rule, and must complete five days of isolation, followed by self-health management until they test negative, he added.
People who test positive for COVID-19, but who are rejected from medical care by a healthcare facility, can file a complaint with the local health authority, as it would contravene the Medical Care Act (醫療法) and the National Health Insurance Act (全民健保法).
The CECC yesterday reported 8,209 local infections, 210 imported cases and 43 deaths, while the local caseload is 7.4 percent lower than on Sunday last week.
Separately, starting from today, people who test positive for COVID-19 can ask for sick leave by showing a photograph of a positive rapid test result, and as long as they have not taken more than 30 days of sick leave within a year, the employer must pay 50 percent of the salary for the days taken off, the Ministry of Labor said on Thursday.
Employers must not withhold a perfect attendance bonus for the five days of sick leave taken after the employee tested positive, it said.
Employers must not force people who test positive for COVID-19 to stay at home until they test negative while withholding pay, it said, adding that if they do, they must pay the full salary for those days.
Employers can negotiate with people who test positive regarding policies to allow working from home or remote work, it said.
Comments will be moderated. Keep comments relevant to the article. Remarks containing abusive and obscene language, personal attacks of any kind or promotion will be removed and the user banned. Final decision will be at the discretion of the Taipei Times.