Indigenous fruit set to be protected by enhanced law
People who illegally export high-value indigenous Taiwanese seedlings or their derivatives could be fined or jailed for up to three years as part of a draft bill approved by the Cabinet on Thursday.
The draft is a proposed amendment to the Plant Variety and Plant Seed Act (植物品種及種苗法) and was introduced after China suspended imports of Tainung No. 17 pineapples, also known as Golden Diamond Pineapples, having said it began cultivating them domestically.
People who trade in identified seedlings, their derivatives or related products could face a maximum sentence of three years or a fine ranging from NT$600,000 to NT$3 million (US$19,637 to US$98,187), or both, the draft amendment says.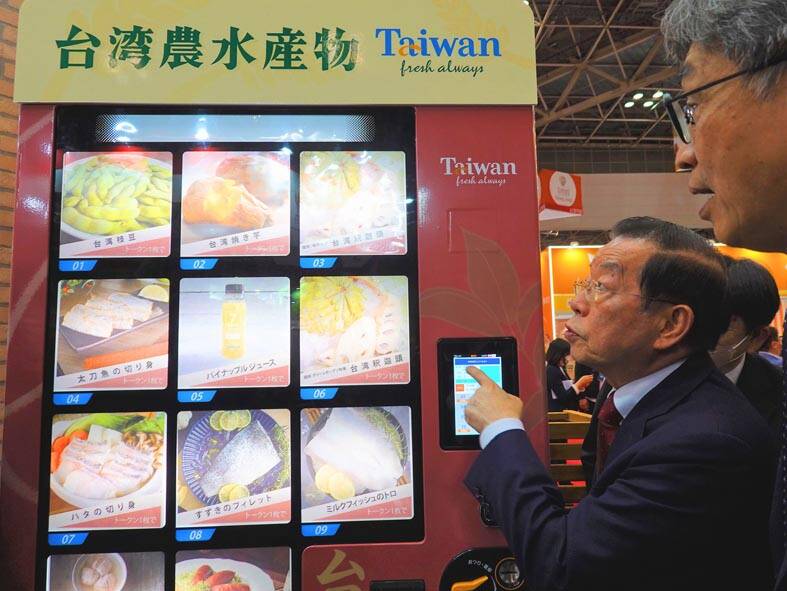 Council of Agriculture Deputy Minister Chen Junne-jih, left, looks at machine that dispenses Taiwanese food products in Tokyo on March 8.
Photo: CNA
The law currently allows for a fine ranging from NT$300,000 to NT$1.5 million, but no prison time.
Council of Agriculture Deputy Minister Chen Junne-jih (陳駿季) said that Taiwan is blessed with an abundance of quality plants, crops and fruit, such as indigenous orchid and rice species.
These valuable species are often smuggled out of the country by "businesspeople from China and other nations," to be grown and sold to other countries, or sold back to Taiwan, undermining the nation's trade, Chen said.
The draft includes exceptions for academic and scientific research, he added.
The amendment is to be sent to the Legislative Yuan for review.
The enhanced law is critical to efforts being made to protect the agricultural sector by preventing indigenous agricultural products from being sold back to Taiwan, Cabinet spokesman Lo Ping-cheng (羅秉成) quoted Premier Chen Chien-jen (陳建仁) as saying.
The premier instructed the council to discuss the issue with the four legislative caucuses so that the draft amendment can be passed quickly, Lo said.
Comments will be moderated. Keep comments relevant to the article. Remarks containing abusive and obscene language, personal attacks of any kind or promotion will be removed and the user banned. Final decision will be at the discretion of the Taipei Times.