Belgium Mandarin center to promote Taiwan
The first Taiwan-affiliated Mandarin learning center in Belgium was inaugurated on Friday, with its principal expressing hope that the school can enhance local understanding of Taiwan.
The Taiwan Center for Mandarin Learning would provide an opportunity for locals to learn more about Taiwan and to further engage with the country, said the center's head Kuo Feng-hsi (郭鳳西), who has lived in Brussels for more than 50 years.
Many people in Belgium have a good impression of Taiwan and are interested in learning more about the country, Kuo said at the plaque-unveiling ceremony.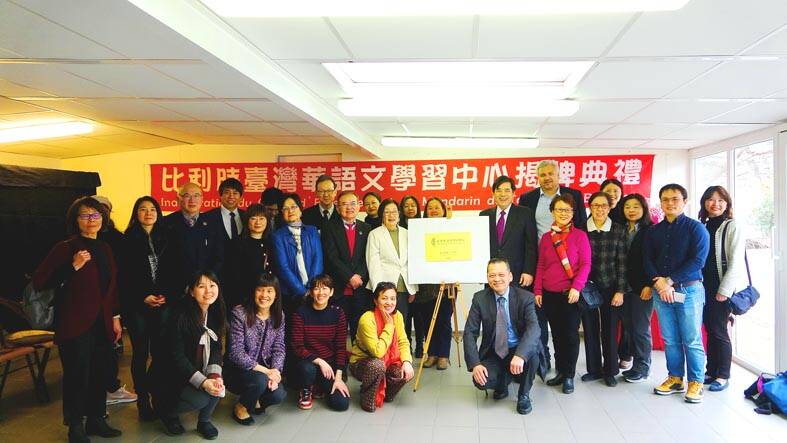 Representative to Belgium Chen Li-kuo, back third right, Belgian lawmaker Emmanuel de Bock, back second right, and others attend the opening ceremony for a Taiwanese Mandarin learning center in Brussels yesterday.
Photo: CNA
The language-learning center offers a great opportunity for people in Brussels, including diplomats, to learn about Taiwan and Taiwanese culture, Belgian lawmaker Emmanuel de Bock said.
The Overseas Community Affairs Council (OCAC), a Cabinet-level body which serves expatriates of Taiwan, has assisted overseas Taiwanese compatriot communities and operates 66 such centers in the West.
Among them, 54 are in the US, with two each in France, Germany and the UK, one each in Austria, the Czech Republic, Hungary, Ireland, Sweden, while the one in Brussels is the latest addition, the OCAC said.
Taiwan is one of the few places in the world that uses traditional Chinese characters, which are enriched with cultural quintessence, making Taiwan the top choice to learn written Chinese, Department of European Affairs Director-General Remus Chen (陳立國) said.
Coupled with various scholarships offered by the Taiwanese government, the language center aims to attract more international students to study in Taiwan, he added.
Comments will be moderated. Keep comments relevant to the article. Remarks containing abusive and obscene language, personal attacks of any kind or promotion will be removed and the user banned. Final decision will be at the discretion of the Taipei Times.