'Suicide drone' to be tested in July for potential use
A domestically developed "suicide drone," also known as a loitering munition, would be tested and evaluated in July, and could enter mass production next year, Taiwan's weapons developer said on Wednesday.
The yet-to-be-named drone was among nine drone models unveiled by the National Chungshan Institute of Science and Technology (NCSIST) on Tuesday.
The drone has been dubbed the "Taiwanese switchblade" by Chinese-language media, due to its similarity to the US-made AeroVironment Switchblade 300, which has been used by Ukraine in counterattacks during Russia's invasion.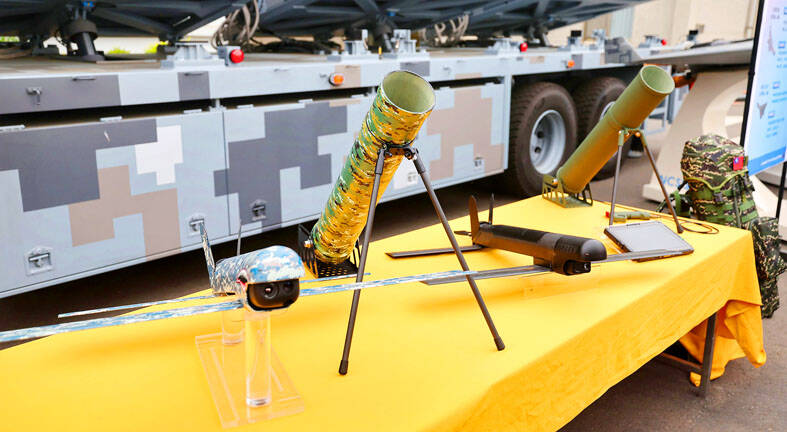 A domestically developed loitering munition, or "suicide drone," similar to the US-made AeroVironment Switchblade 300, is pictured at the Chungshan Institute of Science and Technology on Tuesday.
Photo: CNA
It has a range of more than 10km, a flight time of more than 15 minutes, and an electro-optical and infrared system, the NCSIST said.
It is also equipped with a precision high-explosive warhead, and can be carried into the battlefield by infantry to aim at high-value targets, including personnel and vehicles, the NCSIST said.
During an interpellation at the Legislative Yuan on Wednesday, Democratic Progressive Party (DPP) Legislator Chao Tien-lin (趙天麟) asked whether the military would contract the manufacture of the loitering munition.
A manufacturing project and a program to train drone pilots are being planned by the navy, Minister of National Defense Chiu Kuo-chen (邱國正) said.
Operational tests and evaluations of the drone would commence in July, NCSIST President Art Chang (張忠誠) said, adding that if operating capability is deemed acceptable, mass production would begin next year.
Comments will be moderated. Keep comments relevant to the article. Remarks containing abusive and obscene language, personal attacks of any kind or promotion will be removed and the user banned. Final decision will be at the discretion of the Taipei Times.