DPP launches committee to counter fake news
'PERSONAL ATTACKS': The group would publish graphics, short videos and written information to draw attention to disinformation circulating online, the DPP said
A party committee is to be set up to combat disinformation after false reports targeting Vice President William Lai (賴清德) and other lawmakers circulated on social media, the Democratic Progressive Party (DPP) said on Thursday.
"There have been waves of malicious, fabricated insinuations against Lai these past few days, showing the current disinformation campaign is very sinister," DPP spokesman Chang Chih-hao (張志豪) said.
"Most of them are personal attacks and obviously false. They are contrived political schemes aimed at deliberately disseminating false rumors," Chang said.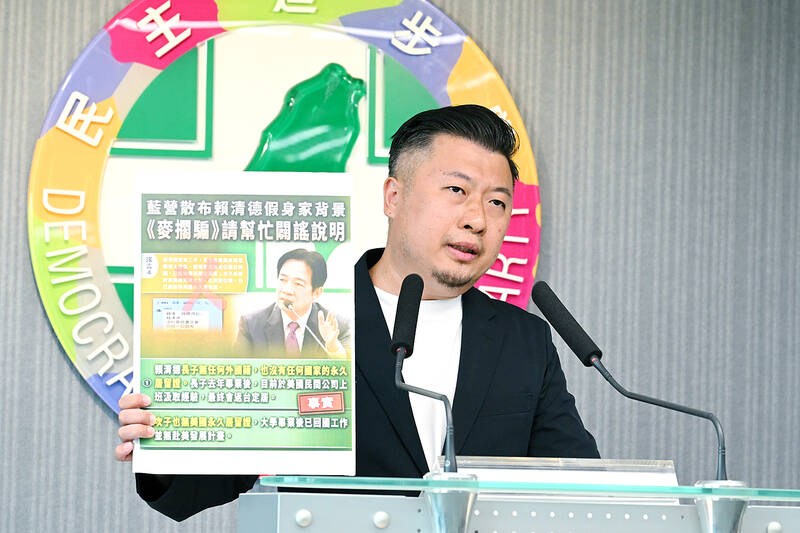 Democratic Progressive Party spokesman Chang Chih-hao speaks to reporters at the party's headquarters in Taipei on Thursday.
Photo: George Tsorng, Taipei Times
"We are gathering evidence to take legal action and put a stop to these detestable tactics," he said.
Lai, who is also DPP chairman, on Wednesday registered to run as a candidate in the party's presidential primary for next year's election.
However, fake news started to appear on social media after his announcement, Chang said.
A "working group to combat cognitive warfare" would be set up and overseen by DPP deputy secretary-general Huang Chien-chia (黃建嘉), he said.
Clarity of information would be provided through graphics, short videos and messages to swiftly communicate with the public, he said.
"We have to respond quickly and shed light on fabricated information and rumors that come from unknown sources," Chang said.
When fake news and disinformation accumulates, some people start to believe it is real, and deceit can displace the truth, he added.
One rumor circulating alleges that Lai's eldest son gained an electrical engineering degree in the US, started work there and got married, obtaining US permanent residency.
However, although Lai's eldest son graduated in the US and has been working for a company there, he does not have permanent residency or citizenship of any other country, Chang said, adding that Lai's son plans to return to live and work in Taiwan.
Lai's second son works in Taiwan and also does not have permanent residency in the US, he added.
The disinformation about Lai's son having permanent residency in the US has allowed some people to say that Lai would be an unreliable presidential candidate, saying that if China were to invade Taiwan, he would flee to the US, Chang said.
"When he became party chairman, Lai clearly stated that his aim is to pursue peace — which is the consensus across the Taiwan Strait — and that he has three core principles: to defend Taiwan's democracy, safeguard peace and prosperity, and not change the 'status quo' of security and stability in the region," Chang said.
More fake news targeted Lai's wife, alleging that she receives triple the salary of other employees at her job at Taiwan Power Co.
However, Lai's wife got the job by passing the civil service exams, just like any other employee, and she is on the same pay scale for her position as other workers, Chang said.
Comments will be moderated. Keep comments relevant to the article. Remarks containing abusive and obscene language, personal attacks of any kind or promotion will be removed and the user banned. Final decision will be at the discretion of the Taipei Times.