Former lawmaker, retired rear admiral face espionage charges
Former lawmaker Lo Chih-ming (羅志明) and retired rear admiral Hsia Fu-hsiang (夏復翔) have been indicted on espionage charges for allegedly developing a spy network for China and inviting military retirees to meet Chinese government officials.
Kaohsiung prosecutors announced the indictment yesterday, citing evidence and witness testimony that Lo — a former legislator for the Taiwan Solidarity Union — and retired naval rear admiral Hsia began their efforts in 2013 after being recruited by the Chinese military and United Front Work Department.
Lo and Hsia were charged for contravening the National Security Act (國家安全法) on evidence of inviting and accompanying several retired military officers, 48 ranked as generals or major generals, on 13 trips to China from 2013 to 2019, Kaohsiung deputy head prosecutor Hsu Hung-ju (徐弘儒) said.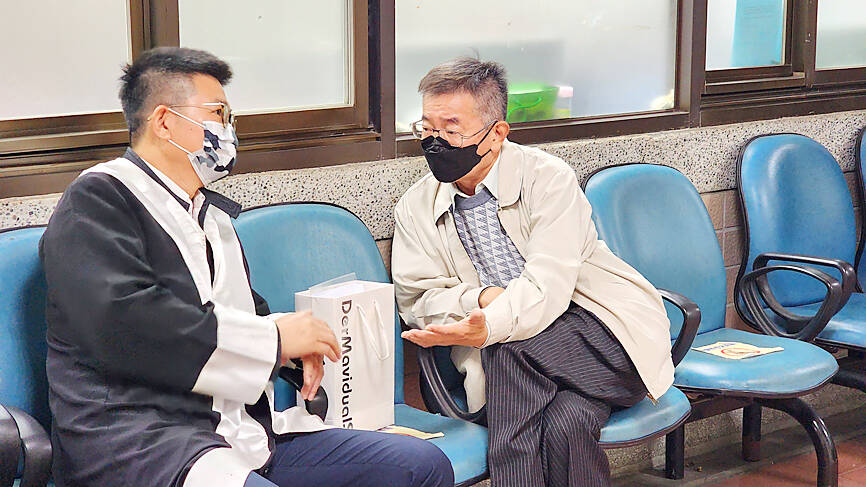 Former Chinese Nationalist Party legislator Lo Chih-ming, right, speaks with his lawyer before his trial at the Kaohsiung District Court on Jan. 19.
Photo: CNA
Many were lured by financial incentives and passed confidential material to China, among other espionage activities, while Lo and Hsia built spy networks, Hsu said.
Lo and Hsia allegedly led the trips to events organized by Beijing, including a gathering for alumni of the Whampoa Military Academy, the Zhuhai International Airshow and golf competitions.
The trips were paid for by Beijing, and Taiwanese military personnel were treated like VIPs while attending banquets and conferences, Hsu said.
Lo befriended Hsia while playing golf together, and through Lo's business connections, he became acquainted with Li Ying (李鷹), a Chinese biotechnology firm chairman who had extensive ties with the Chinese military, investigators said.
As deputy head of the navy's Political Warfare Section, Hsia attended events in China and was introduced to former Chinese United Front Work Department section heads Hao Yifong (郝一峰) and Fang Xinsheng (方新生), Hsu said.
Through these connections, Lo and Hsia were recruited and paid to bring retired generals and other officers to junket trips to China, where they were likely influenced by Beijing officials and convinced to conduct espionage, Hsu said.
Separately, Kaohsiung City Councilor Chang Po-yang (張博洋) of the Taiwan Statebuilding Party accused the Mainland Affairs Council (MAC) and other ministries of neglecting to draft laws to prevent elected officials from attending political meetings in an enemy state.
Chang said he was referring to Chinese Nationalist Party (KMT) politicians visiting China to attend Whampoa Military Academy anniversary functions, along with other junket trips to China.
Most recently, KMT Taoyuan City Council Speaker Chiu Yi-sheng (邱奕勝) led a 24-member delegation of city councilors and their spouses to Shanghai, and met United Front Work Office Shanghai chairman Chen Tong (陳通) on Tuesday, Chang said.
There was also a trip to Beijing last month led by Kaohsiung borough warden Liu Chi-fang (劉啟芳), also of the KMT, in which a 52-member group comprised of other wardens and community organization directors attended a conference chaired by China's top Taiwan Affairs Office official, Song Tao (宋濤), Chang said.
He criticized MAC for saying that Taiwan has no law banning officials from such engagement with China, saying that lack of such a law allowed officials to meet with officials of an enemy state.
Comments will be moderated. Keep comments relevant to the article. Remarks containing abusive and obscene language, personal attacks of any kind or promotion will be removed and the user banned. Final decision will be at the discretion of the Taipei Times.