THSRC board approves NT$28.5bn for new trains
HIGH-PERFORMANCE: After two failed tenders, Hitachi Toshiba Supreme Consortium was granted the contract to build 12 sets of next-generation high-speed trains
Taiwan High Speed Rail Corp's (THSRC) board of directors on Wednesday passed a resolution authorizing management to spend about NT$28.5 billion (US$930.4 million) to procure 12 sets of next-generation high-speed trains from the Hitachi Toshiba Supreme Consortium (HTSC).
The procurement of new trains has been planned since 2019 after taking into account various factors, from growth of transport volume to capacity to maintain and repair trains, flexibility in train deployment, and train occupancy rates on weekdays, weekends and holidays, THSRC said.
The deal was only finalized after the company held a public tender for the procurement for the third time in March last year, it said.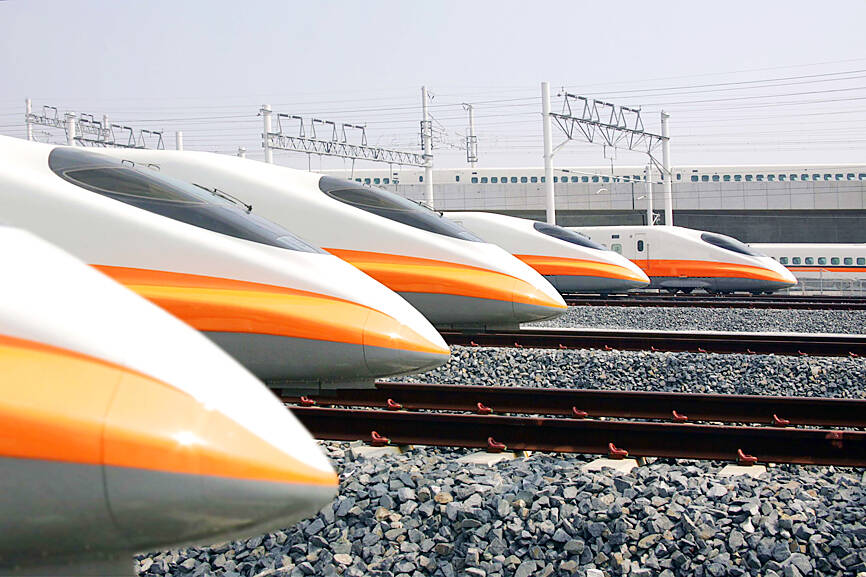 Taiwan High Speed Rail trains are pictured in a railway yard on Feb. 3.
Photo courtesy of Taiwan High Speed Rail Corp via CNA
The first two tenders failed as the prices quoted by Japanese manufacturers were much higher than the market rate, the company said.
The board on Wednesday voted to grant the contract to HTSC after the company's management reviewed tender documents prepared by contractors and engaged in multiple rounds of negotiations with companies that have priority negotiation rights, THSRC said.
Modeled after the N700S Shinkansen system, the next-generation high-speed trains would feature a more streamlined and energy-
saving design than the current 700T trains, the company said, adding that the new trains would travel faster and better serve passengers.
Each seat on the new train would be equipped with a 110V socket, and each train car would have an LCD panel to display information, double-deck luggage racks and other equipment, it said.
The agreement between THSRC and HTSC requires the contractor to begin delivering the new trains to Taiwan 42 months after it commences production, the railway operator said, adding that the first set should start operating 50 months after the project begins.
Local news media outlets reported that the first two tenders failed because Japanese contractors offered tenders of NT$5 billion per set of high-speed trains.
The deal was finalized after the price was halved to NT$2.3 billion, the reports said.
Last year, Japan-Republic of China Diet Members' Consultative Council chairman Keiji Furuya raised the issue of THSRC's procurement of new train cars from Japan at his meeting with President Tsai Ing-wen (蔡英).
The high-speed rail system "is a symbol of solid friendship between Taiwan and Japan, for which the two countries must cooperate," Furuya said.
Comments will be moderated. Keep comments relevant to the article. Remarks containing abusive and obscene language, personal attacks of any kind or promotion will be removed and the user banned. Final decision will be at the discretion of the Taipei Times.