Protesters pan KMT mayor over Shinto shrine removal
Culture preservation groups and Taoyuan residents yesterday protested a decision by Chinese Nationalist Party (KMT) Taoyuan Mayor Simon Chang (張善政) to remove items from a local Shinto shrine, while academics said that Japanese who travel to Taiwan to worship fear that all the shrine's deities might be removed.
Fu Jen Catholic University law professor Yao Meng-chang (姚孟昌) said that since Chang became mayor, the city government has restricted freedom of religion by targeting places of worship that are important to the community.
The deities are facing expulsion to Japan, Yao said, referring to a shrine on Hutou Mountain (虎頭山) in the city's Taoyuan District (桃園).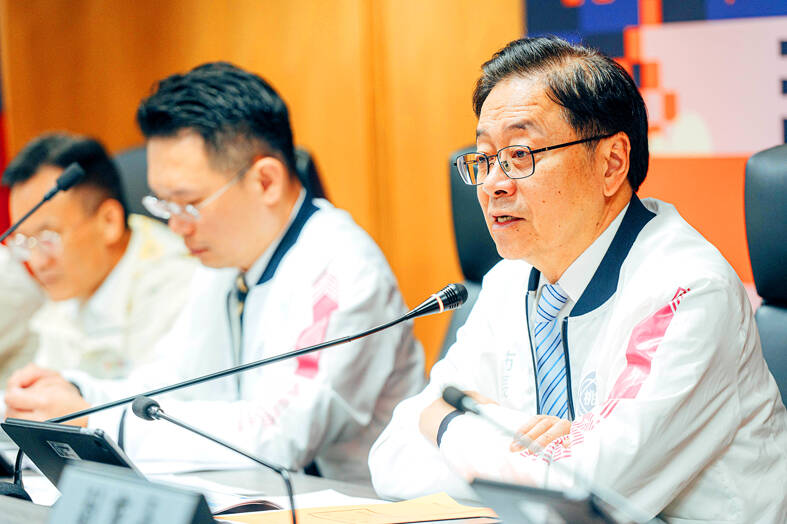 Taoyuan Mayor Simon Chang, right, attends a city council meeting yesterday.
Photo: CNA
Protesters called the removal a "crude destruction of a cultural treasure."
Meng said that many foreigners, including Chinese and Thai Buddhists, as well as Hindus from India, have come to him voicing concern over the city's removal of deities and their looming return to their countries of origin.
"They are worried that their deities, their worship, could be banned," he said.
Figurines of deities that are predominantly worshiped by foreigners in Taiwan pose no threat to social order, but the Chang administration does not respect their right to have places of worship in Taoyuan, he said.
The city government's policy seeks to erase the collective memory of local events, he said, calling its actions unethical.
The National Human Rights Commission and the Executive Yuan should investigate the matter, he said.
The statement came after days of protests near the shrine, with demonstrators holding signs with slogans such as: "The Constitution guarantees freedom of religion," "Why can a Japanese deity not reside in a Japanese shrine?" and "The Taoyuan City Government violates my freedom to worship."
One protester told reporters that the shrine is the best preserved place of Shinto worship in Taiwan, saying that it attracts many visitors on weekends, including cosplayers and amateur photographers.
The protests began after Chang said that people had complained about the shrine, announcing that some items, including figurines of the deity Amaterasu Okami, would be removed.
The Democratic Progressive Party (DPP) caucus in the Taoyuan City Council condemned the move, saying in a statement that the site, unlike many other Shinto shrines in Taiwan, was not dismantled in the 1950s because it was forcibly transformed into a martyrs' shrine commemorating veterans of the Chinese Civil War.
It was reverted back to its original purpose under the administration of former Taoyuan mayor Cheng Wen-tsan (鄭文燦) of the DPP, but with KMT back in power, the city government has embarked on a mission of "cultural cleansing," the DPP caucus said.
"Some KMT officials still strongly cling to their outdated, feudal viewpoints of being Chinese," which motivated the Chang administration to work toward removing the shrine's deities, the DPP officials said.
Comments will be moderated. Keep comments relevant to the article. Remarks containing abusive and obscene language, personal attacks of any kind or promotion will be removed and the user banned. Final decision will be at the discretion of the Taipei Times.