Hospital touts new world-class center for surgical training
Linkou Chang Gung Memorial Hospital's newly completed Surgical Skills Training and Research Center would boost healthcare quality and attract medical students from around the world, the hospital said yesterday.
The surgical training center, in the hospital's research building in Taoyuan's Gueishan District (龜山), has 500 ping (1,653 m2) of floorspace, making it the largest facility of its kind ever established in Taiwan, the hospital said in a news release.
Hospital chairwoman Diana Wang (王瑞慧) and the executive committee launched the effort two years ago.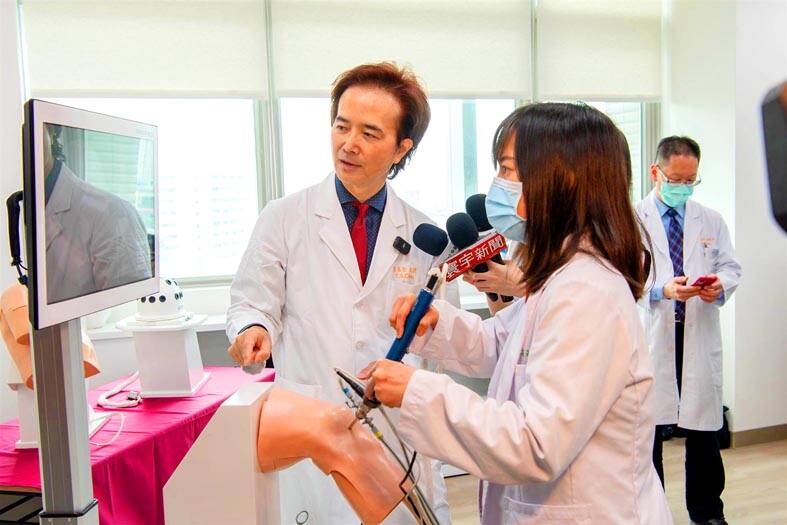 Linkou Chang Gung Memorial Hospital sports injury doctor Chan Yi-sheng, left, demonstrates a robotic-assisted surgery system at the opening of the hospital's Surgery Skills Training and Research Center in Taoyuan's Gueishan District yesterday.
Photo courtesy of Linkou Chang Gung Memorial Hospital via CNA
The center is subdivided into surgical training, realistic surgical training and general-purpose utility areas, and has 24 operating tables, instruments and equipment, lecture rooms and rest zones, the hospital said.
Each of the facility's venues can accommodate 100 trainees, and lessons would be provided by the hospital's best surgeons, who together have more than 40 years of experience, it said.
Wei Fu-chan (魏福全), a plastic surgery specialist at the hospital and research fellow at Academia Sinica, would head the demonstration and instruction team involved in the center's first series of courses running on Saturday and Sunday next week, it said.
Wei is one of the physicians at the hospital who have been included on Stanford University's top 2 percent of the world's leading scientists list, it said.
Medical students and practitioners from many regions, including Colombia, Egypt, Hong Kong, Israel, Italy, Japan, South Korea, Malaysia, Saudi Arabia, Singapore and Sweden, would be attending the courses, the hospital said.
The demonstrations are to be held in the center's conference room, which can fit 500 people, and would be streamed online for overseas trainees, it said.
The hospital's Da Vinci robotic-assisted surgery system training center has received international certification, and was the first to be created in Taiwan and the third in Asia, it said.
Its head and neck cancer center was the fifth to receive certification from the International Federation of Head and Neck Oncologic Societies, and its video-assisted thoracic surgery demonstration center was the first to be certified in the Asia-Pacific region, it said.
The surgery training and demonstration courses offered at the center would be attended by surgeons worldwide and become an educational hub for medicine in Taiwan, the hospital said.
Comments will be moderated. Keep comments relevant to the article. Remarks containing abusive and obscene language, personal attacks of any kind or promotion will be removed and the user banned. Final decision will be at the discretion of the Taipei Times.