CDC issues enterovirus warning
HYGIENE KEY: The CDC reported two cases of enterovirus 71, which can cause serious complications, and as there have been no recent outbreaks, children are not immune
Two cases of enterovirus 71 (EV71) were reported last week, the Centers for Disease Control (CDC) said yesterday, adding that it was a warning sign, as the virus has not been detected for more than a year.
Parents are advised to remind their children to practice good hand hygiene, it said.
Guo Hung-wei (郭宏偉), director of the CDC's Epidemic Intelligence Center, said that 165,230 people visited a hospital for diarrhea last week, which is a high number.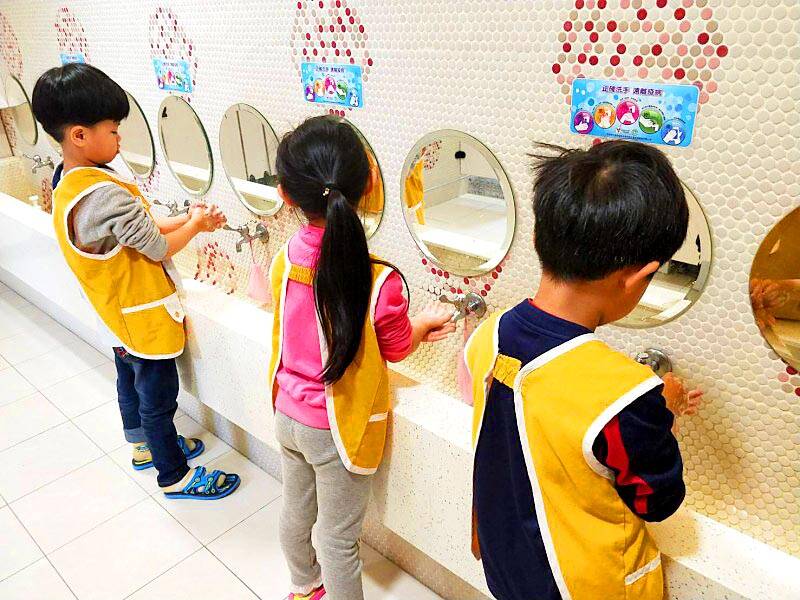 Children wash their hands at a school in Taoyuan in an undated photograph.
Photo courtesy of the Taoyuan Department of Public Health
Most of the diarrhea case clusters were caused by norovirus infection, but there were also enterovirus cases, and weekly caseloads are slowly increasing, Guo said.
Most of last week's enterovirus cases had Enterovirus D68 (EV-D68), but two young children in northern Taiwan had EV71, weekly enterovirus data showed.
One of the EV71 cases is a one-year-old boy who had a fever and fatigue, while the other is a four-year-old girl who had a fever, sore throat and mouth ulcers, CDC physician Lin Yung-ching (林詠青) said.
While their family members did not have symptoms, classmates at their nursery and preschool had enterovirus infections, Lin said.
"EV71 infection can cause nervous system complications, including encephalitis, meningitis and even acute flaccid paralysis," he said.
Mild symptoms include herpangina (blister-like sores in the mouth and throat) and foot-and-mouth disease, Lin said, adding that the four-year-old girl's ulcers were a typical symptom.
"There has been no enterovirus outbreak in the past three years, so many young children have never been infected with an enterovirus and do not have immunity, making cluster infections more likely," he said.
Enteroviruses mainly spread through respiratory droplets and direct contact with contaminated objects, so parents should remind their children to wash their hands frequently and wear a mask if they have symptoms, Lin said.
People should seek medical attention if suspected symptoms occur and rest at home, he added.
CDC Deputy Director-General Philip Lo (羅一鈞) said the two EV71 cases are a warning sign, as the virus has not been detected in Taiwan for more than a year.
There have been large outbreaks in the past, and the virus can cause severe complications, so the CDC plans to tell healthcare facilities to be cautious and ask schools and parents to remind young children to practice good hand hygiene, he said.
Children aged five or under are at higher risk of severe complications, and parents should seek medical attention immediately if their children are persistently sleepy or repeatedly vomiting, or if they have concentration issues, fatigue, weakness of the limbs, myoclonic jerks, shortness of breath or a rapid heartbeat when their body temperature is normal, Lin said.
Meanwhile, three cases of severe flu complications were reported last week: one with the influenza A (H1N1) virus and two with the influenza A (H3N2) virus, Lin said, adding that they were all over the age of 50 and did not get vaccinated this flu season.
Separately, the Central Epidemic Command Center yesterday reported 9,860 new local COVID-19 cases, 225 imported cases and 28 deaths.
The local case count is 8.8 percent lower than it was on Tuesday last week, it said.
Comments will be moderated. Keep comments relevant to the article. Remarks containing abusive and obscene language, personal attacks of any kind or promotion will be removed and the user banned. Final decision will be at the discretion of the Taipei Times.