Presidential and legislative elections to be on Jan. 13
The next presidential and legislative elections are to be held on Jan. 13 next year, the Central Election Commission announced yesterday.
Candidate registration would take place from Nov. 20 to Nov. 24, it said, adding that it would review the eligibility of prospective presidential and vice presidential candidates by Dec. 5, and announce the candidate list on Dec. 15.
Televised policy platforms for the candidates would be conducted between Dec. 16 and Jan. 12, it said.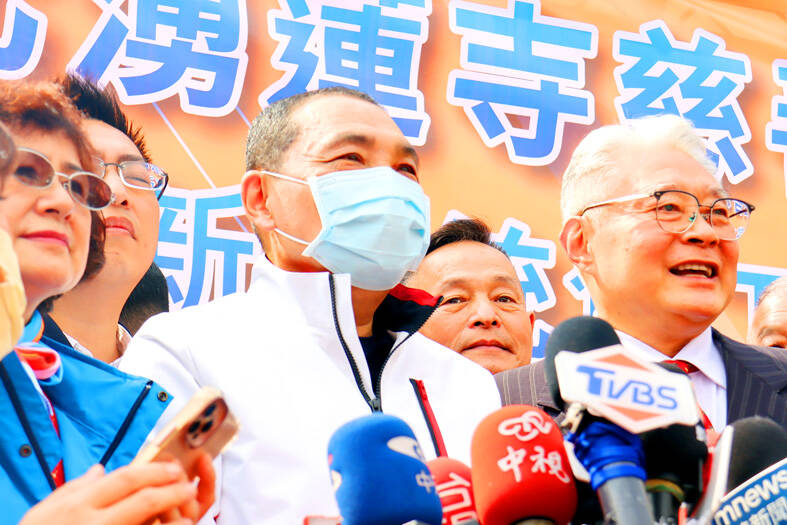 New Taipei City Mayor Hou You-yi, center, speaks to reporters at an event in the city on Thursday.
Photo: Wong Yu-huang, Taipei Times
The date for the presidential election is in line with the precedent set when the presidential election was moved to January in 2012 to align with the legislative elections.
For the legislative elections, candidacy reviews would be completed by Dec. 15, with the final list posted on Jan. 2, it said.
Public policy presentations for the candidates would be held from Jan. 3 to Jan. 12, it added.
Meanwhile, Chinese Nationalist Party (KMT) members yesterday called for solidarity after a poll conducted by Broadcasting Corp of China and Gallup showed that potential KMT nominees would have the least support.
Assuming that New Taipei City Mayor Hou You-yi (侯友宜) runs for president, and KMT Chairman Eric Chu (朱立倫) enters the race as Hou's running mate, the poll showed the duo would be the least popular among voters of the three parties represented in the poll.
A source within the KMT said the results showed that party members must demonstrate better unity and stronger resolve to be a truly "non-green party force."
KMT Legislator Lai Shyh-bao (賴士葆) said he was "shocked" by the results, and said it proved that the KMT could not "rest on its laurels" following its victory in last year's local elections.
The Democratic Progressive Party under party Chairman William Lai (賴清德) demonstrated success in last week's legislative by-election in Nantou County, and the party should not be underestimated in the presidential election, he said.
Comments will be moderated. Keep comments relevant to the article. Remarks containing abusive and obscene language, personal attacks of any kind or promotion will be removed and the user banned. Final decision will be at the discretion of the Taipei Times.