Coastal littering drops by 33 percent, EPA says
Littering along Taiwan's coasts decreased 33 percent last year, an Environmental Protection Administration (EPA) report released on Tuesday last week showed.
About 955 tonnes of litter was collected on beaches last year — 33 percent less than the 1,426 tonnes collected in 2021, the agency said, adding that it was the third consecutive annual drop in coastal litter.
The report, titled "2022 Project of Promoting and Maintaining Clean Coasts and Performance Management: Rapid Assessment and Source Analysis," said only 5 percent of the total was collected along the east coast.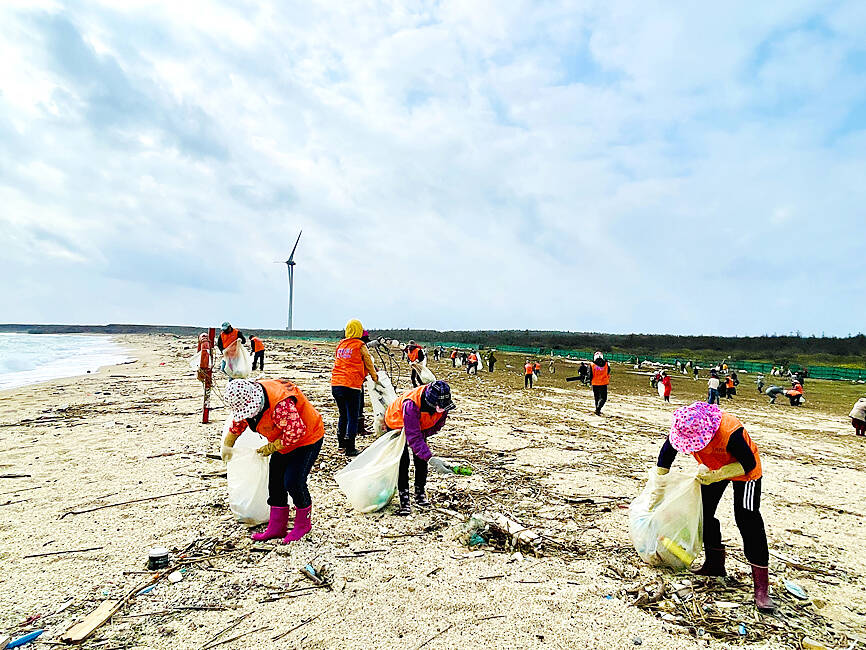 Volunteers clean up a beach in Penghu County on Friday last week.
Photo courtesy of the Penghu National Scenic Administration via CNA
The section of the west coast spanning Changhua, Yunlin and Chiayi counties, and Tainan accounted for 26 percent, followed by 11 percent collected in Kaohsiung and Pingtung County, it said.
The most heavily polluted coasts were in Kinmen County, which contributed 14 percent to the total, while Penghu County accounted for 10 percent and Lienchiang County for 7 percent, it showed.
The report was commissioned by the EPA and conducted by Taiwanese environmental consultancy IndigoWaters, which offers services and advice to governments on the management of coastal and ocean pollution.
IndigoWaters CEO Yen Ning (顏寧) said that litter from the fishing industry made up 59 percent of coastal garbage on Taiwan proper.
The report highlighted the origins of plastic bottles and cans, sampling 500 pieces of litter collected at random from 10 coastal garbage hot spots, Yen said, adding that it also assessed how long they had been at sea.
Categorizing them as originating from Taiwan, China or elsewhere, the report said that Chinese bottles and cans accounted for 95 percent in Kinmen, Yen said.
In Pingtung, Yunlin and Chiayi, 58 percent were Taiwanese bottles and cans, she said.
Eighty-six percent had been at sea for less than three years, Yen added.
Local governments should schedule beach cleanups and recycling events based on local industries and seasonal weather patterns, Yen said.
For example, byproducts of the oyster industry in Yunlin, Chiayi and Tainan are typically carried southwest from July to September, she added.
Comments will be moderated. Keep comments relevant to the article. Remarks containing abusive and obscene language, personal attacks of any kind or promotion will be removed and the user banned. Final decision will be at the discretion of the Taipei Times.