Turkish NGO head thanks Taiwan for quake help
The head of Turkey's AKUT Search and Rescue Association has thanked Taiwan for its assistance after last month's devastating earthquake.
Turkey and Taiwan share a "great bond" dating back to the 921 Earthquake on Sept. 21, 1999, when Turkey sent a team of 36 rescue workers to Taiwan, including 17 AKUT volunteers, AKUT chairwoman Zeynep Yosun Akverdi said in an interview.
"Because we were there when Taiwanese needed it, now you are here [after] our people in southeast Turkey experienced a very major disaster," she said, adding that the help her country had received from Taiwan and others was "a huge honor."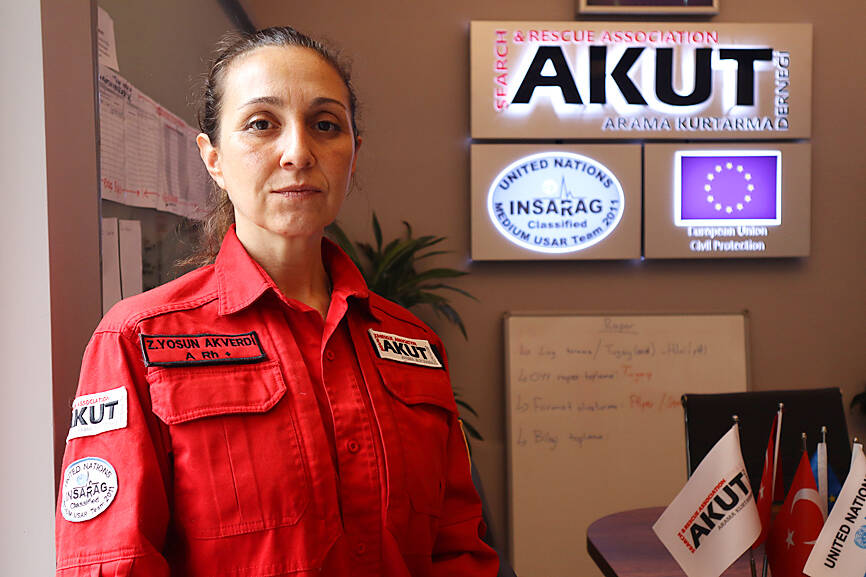 AKUT Search and Rescue Association chairwoman Zeynep Yosun Akverdi poses for a picture in an undated photograph.
Photo: CNA
After the magnitude 7.8 earthquake struck near the town Gaziantep on the Turkish-Syrian border on Feb. 6, Taiwan dispatched a team of 130 rescue personnel and five search dogs, while Taiwanese donated more than NT$1.11 billion (US$36.3 million) to a designated account for earthquake relief.
In the wake of the earthquake, which killed at least 50,000 people, AKUT is raising funds to build two new training centers, Akverdi said.
The facilities, one outside Istanbul and the other in southern Turkey, would train volunteers and civilians in earthquake response and first-aid techniques, she said.
"Public awareness is so important," Akverdi said, adding that in many disaster situations, more than 90 percent of the live rescues occur within two days, often before major relief operations arrive.
"People who live [in these places] need to know what to do right after an earthquake. This is very important," she said.
Once the centers are built, she plans to set up an exchange program for Turkish and Taiwanese rescue workers to train together, with a focus on learning how to use new equipment and technologies, Akverdi said.
In the meantime, the Turkish government, non-governmental organizations (NGO) and the public are continuing their efforts to restore basic services in the hundreds of cities and towns damaged in the quake, she said.
Some of the top priorities are getting students back in school and ensuring that cities are rebuilt with more quake-resistant building materials, she said.
Comments will be moderated. Keep comments relevant to the article. Remarks containing abusive and obscene language, personal attacks of any kind or promotion will be removed and the user banned. Final decision will be at the discretion of the Taipei Times.