Taichung man charged after fire kills his family
A 66-year-old resident of Taichung's Dali District (大里) was on Friday charged with arson and negligent homicide, after he in January caused a fire at his home that led to the death of his wife, children and grandchildren, local prosecutors said.
The man, surnamed Chen (陳), was found outside his home by firefighters arriving at the scene early on Jan. 6. He told them that he had set the fire in the three-story building to scare away a snake, the Taichung District Prosecutors' Office said.
Firefighters found Chen's 62-year-old wife, 38-year-old daughter, 32-year-old son and two grandsons — aged 11 and 6 months old — in the building. All of them showed no vital signs and were pronounced dead at a hospital, the office said.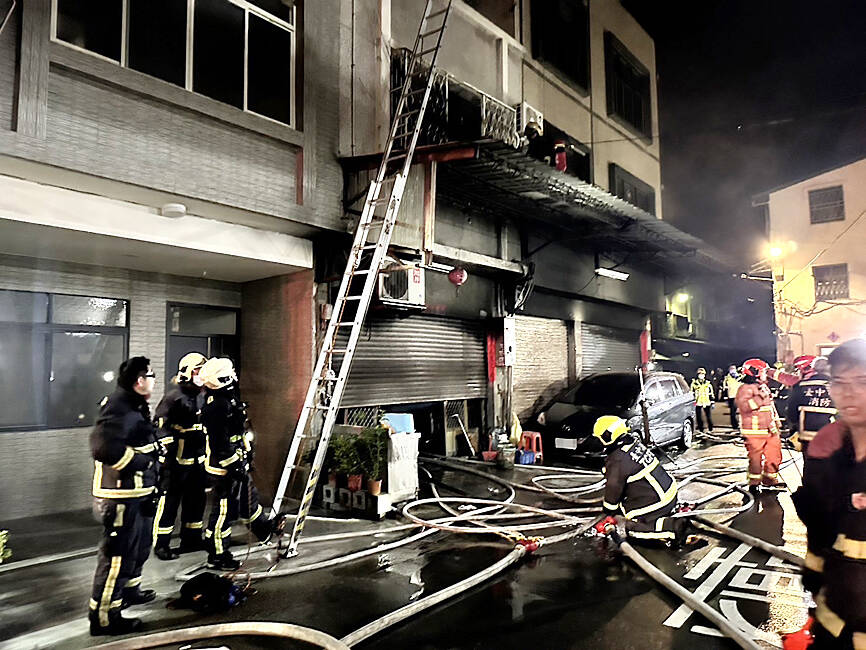 Firefighters work at the scene of a fire in Taichung's Dali District on Jan. 6.
Photo: CNA
The causes of death were multiple organ failure caused by the heat, lack of oxygen and inhaling toxic gases, it added.
The office said that Chen might have had an acute episode of delirium when he set fire to the house, believing there was a snake.
A hospital assessment concluded that he has a major neurocognitive disorder that manifested over the past two to three years, it said.
Prosecutors said Chen had been mentally unstable for months after he lost part of a leg in a traffic accident, adding that he also has several chronic diseases, including high blood pressure, diabetes and kidney failure.
He was detained right after the fire, they said.
The prosecutors said they filed a motion to have Chen placed in a medical institution, as his impaired capabilities to judge the consequences of his actions might imperil public safety.
Comments will be moderated. Keep comments relevant to the article. Remarks containing abusive and obscene language, personal attacks of any kind or promotion will be removed and the user banned. Final decision will be at the discretion of the Taipei Times.