Driver charged after fatal Taichung pedestrian crash
A bus driver was on Thursday charged with negligent homicide, after he allegedly plowed into a family crossing a street in the Taichung's North District (北區) in December last year, killing the 31-year-old mother and her one-year-old son.
The 53-year-old driver, surnamed Chen (陳), failed to give way to the family, prosecutors said, adding that they had asked the court to hand down a heavy sentence to driver.
The Taichung District Prosecutors' Office said that the incident occurred when the woman, her husband and child legally crossed Yingcai Road at its intersection with Xueshi Road at about 11:15pm on Dec. 27.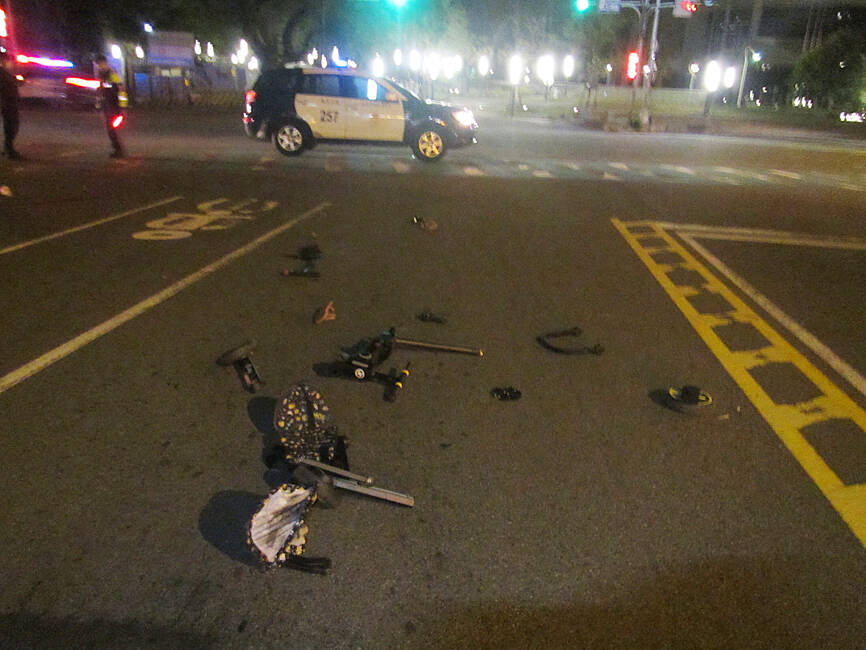 Pieces of a stroller are spread across a street in Taichung following an crash that resulted in the death of a woman and her child on Dec. 27 last year.
Photo: CNA
As they were crossing, Chen, driving a No. 280 city bus, made a left turn on a green light on Yingcai Road, apparently failing to see the two adults and their child in a stroller.
The three were immediately taken to China Medical University Hospital, where the mother, surnamed Lee (李), and her child were pronounced dead. The father, an Iraqi national, was treated for minor injuries.
The father, surnamed Chi (季), told reporters that they had almost reached the other side of the road when the bus, driving at high speed, made a left and ran them over.
His account was confirmed by witnesses, who said the family had been legally crossing the crosswalk, but appeared to have been in the driver's "blind spot," as he made no attempt to slow the bus before hitting them.
Shortly after the incident, Chen told police that he had not seen the family due to poor lighting at the site.
He only realized that something had happened after feeling a "bump" at the back of the bus, police cited him as saying.
Based on video footage from the bus' dashcam and nearby surveillance cameras, prosecutors determined that Chen's vision was not impeded, calling his statement an invalid excuse.
Comments will be moderated. Keep comments relevant to the article. Remarks containing abusive and obscene language, personal attacks of any kind or promotion will be removed and the user banned. Final decision will be at the discretion of the Taipei Times.