China lures students for 'indoctrination': MAC
A Chinese policy to accept Taiwanese exam results for applications at universities is an attempt to lure young Taiwanese to China for political and social indoctrination, the Mainland Affairs Council (MAC) said on Wednesday.
The statement came after China's Taiwan Affairs Office spokeswoman Zhu Fenglian (朱鳳蓮) announced that 412 Chinese universities — including the country's top institutions — would this month start accepting college entrance exam results from the "Taiwan area" without additional fees.
Each student could apply to six schools, and for six majors at each school, Zhu said.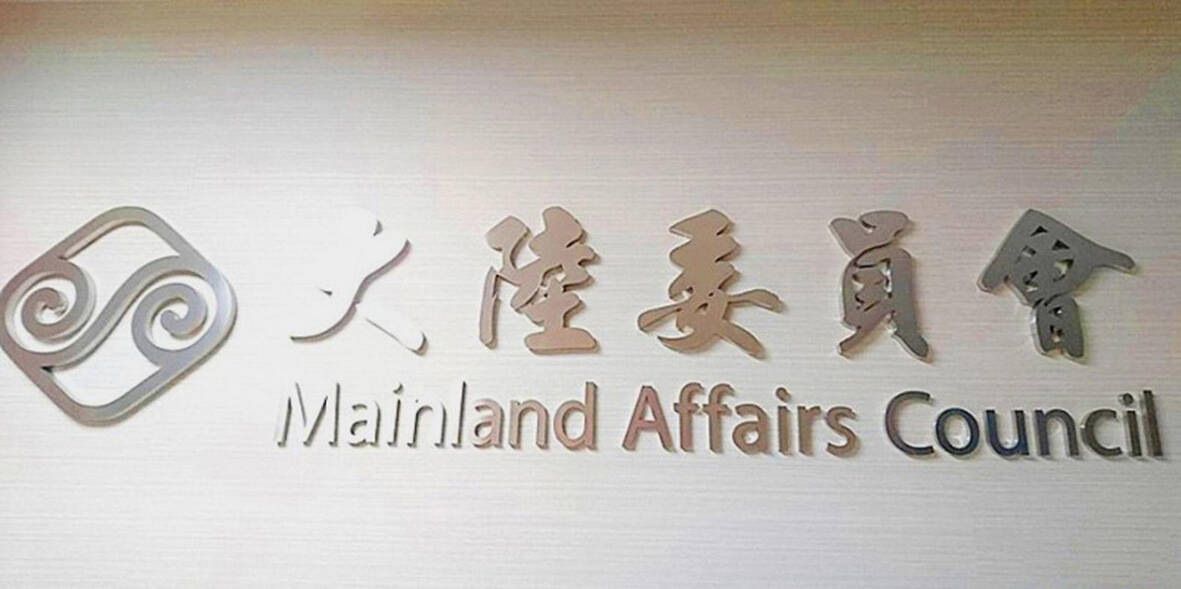 The logo of the Mainland Affairs Council is pictured in an undated photograph.
Photo: CNA
Beijing has since 2020 used education policies to attract Taiwanese to China, including the new unified online admissions system, for which it ran trials last year, the council said.
By simplifying administrative procedures, the policy seeks to reduce the number of Taiwanese whose applications are accepted by Chinese universities, but who do not enroll, the council said.
The new policy limits the number of schools to six per student to make the system appear exclusive, it added.
Surveys have shown that support for allowing Taiwanese to study in China has declined in Taiwan, it said, adding that only about 300 Taiwanese have started their studies in China in the past few years.
Beijing has long viewed young people as an important target for its "united front" efforts, the council said.
Especially since the Chinese Nationalist Party's (CCP) 20th National Congress in October last year, Beijing has stepped up efforts to promote cross-strait integration, it said.
These include preferential measures for Taiwanese to study and start careers in China, the council said, calling them efforts to entice Taiwanese to identify as Chinese.
Beijing seeks to amplify its message by using examples of successful Taiwanese based in China, it added.
"The preferential measures offered to young Taiwanese students by the CCP have a political goal and united front intention," the council said.
The new system might make it easier to apply, but it still requires prospective students to declare support for the "one country, two systems" formula and "unification" before they can enroll, the council said.
The two sides of the Taiwan Strait have significantly different ways of life, and political and legal systems, the council said.
Beijing has in the past few years clamped down more severely on academic freedom and is stringently enforcing political indoctrination on campuses, it added.
To protect students' interests, the council said it has set up a section on its Web site with tips for prospective students interested in studying in China, including context to the CCP's political propaganda and what they can expect after moving to the country.
Comments will be moderated. Keep comments relevant to the article. Remarks containing abusive and obscene language, personal attacks of any kind or promotion will be removed and the user banned. Final decision will be at the discretion of the Taipei Times.