Water alert raised for Kaohsiung as rain remains scarce
'YELLOW' LEVEL: The newly activated Central Emergency Operation Center said that the city's water pressure would be lowered in off-peak hours
The government on Wednesday said it would implement water restriction measures in Kaohsiung starting next week, as southern Taiwan received unusually little rain last year.
Starting on Wednesday, the water alert level for Kaohsiung would be raised from "green" to "yellow," meaning water pressure would be reduced from 10pm to 6am, the Central Emergency Operation Center said.
The center was activated earlier that day and made the statement after its first meeting.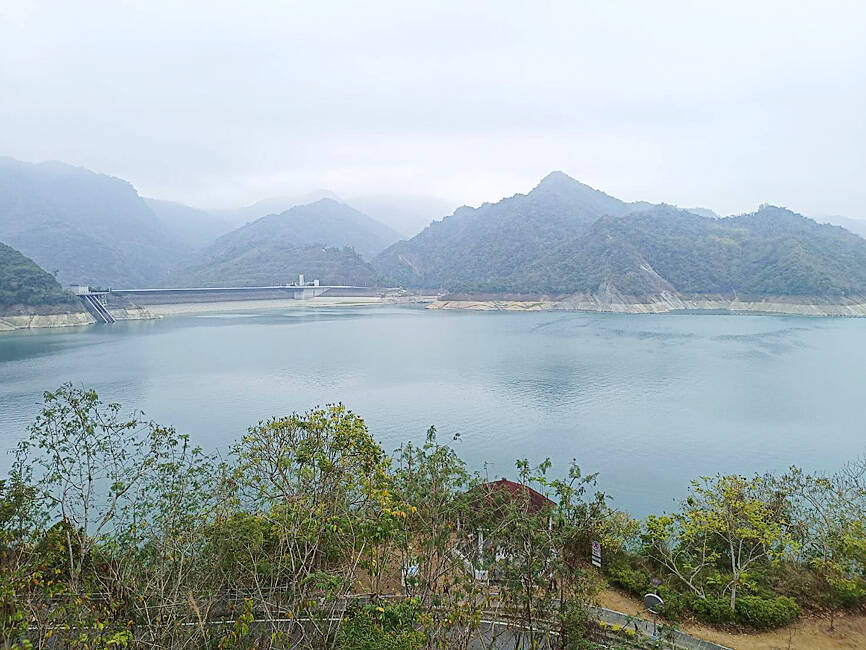 Zengwen Reservoir in Chiayi County is pictured in an undated photograph.
Photo courtesy of the Southern Region Water Resources Office
The alert level for Kaohsiung was raised from "green," the lowest level on the nation's four-tier scale, indicating that water reserves are below normal.
TAINAN, CHIAYI
The Ministry of Economic Affairs in the middle of last month raised the level for Tainan to "orange," and on Wednesday raised the levels for Chiayi County and city to "yellow."
Under an "orange" alert, industrial, commercial and residential users might face reduced water supply.
The government is monitoring the water levels at reservoirs in southern Taiwan as part of efforts to prevent shortages.
The ministry is coordinating with the Water Resources Agency, Taiwan Water Corp and local governments to introduce measures to ensure reserves do not fall below certain thresholds.
MANAGING SUPPLY
Measures taken in the past few months include balancing distribution of regional water resources, drilling at least 54 additional wells and boosting processing capacity at water purification plants, the center said, adding that the government seeks to ensure that there is 136,000 tonnes of daily water supply by the end of next month.
Comments will be moderated. Keep comments relevant to the article. Remarks containing abusive and obscene language, personal attacks of any kind or promotion will be removed and the user banned. Final decision will be at the discretion of the Taipei Times.