Operators protest 'ever-changing' drone regulations
The opening of the Joint Uncrewed Aerial Vehicle (UAV) Information Security Laboratory at the Kaohsiung Science Park yesterday was met by protests that ever-changing government policy has significantly increased overhead for drone operators.
The laboratory is part of a comprehensive government plan to regulate UAVs, with the Civil Aeronautics Administration (CAA) expected to propose an amendment to the Regulations of Drones (遙控無人機管理規則) next month.
The laboratory is expected to establish a standard and distribute information security certification for UAVs, the Executive Yuan said in a report.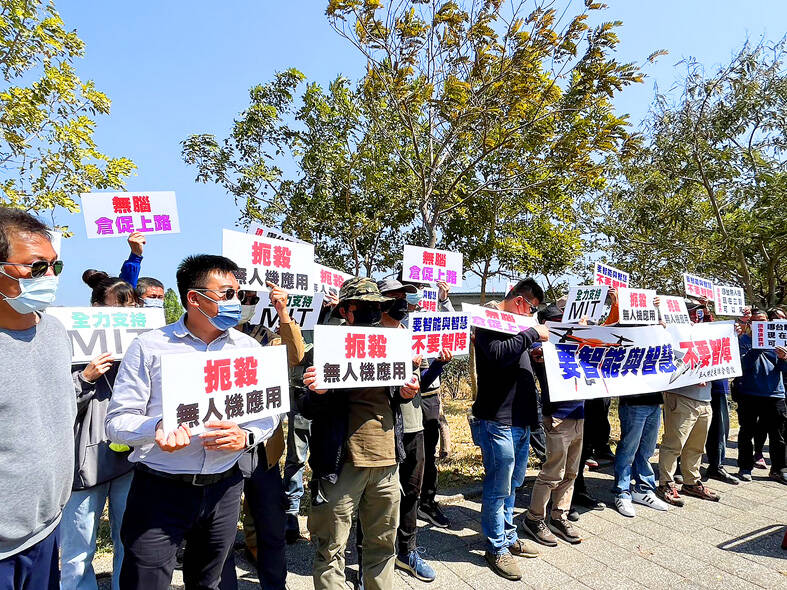 People protest against changing drone regulations at the Kaohsiung Science Park yesterday.
Photo: CNA
The facility can process about 95 drones per day.
A group of about 40 protesters said the government's changes in policy do not take into account drone operators' overheads.
Kaohsiung UAV Technician Union member Lo Jui-hao (羅睿豪) said that operators were willing to comply with government policies, but that the ever-increasing rules were unbearable.
"They are killing the development of the UAV industry," Lo said.
Lo said he spent more than NT$1 million (US$32,693) over two-and-a-half years to obtain certification for his drone, which weighs more than 25kg and is used in agriculture.
Lo said it is absurd that after all that effort, he would have to obtain a separate certificate for information security, adding: "The government's standards are constantly changing."
Kaohsiung Remote-controlled Sports Association Director Chen Ching-ting (陳慶庭) said that there are too many CAA regulations, most of which are not enforced, adding that there were "black flight operators."
Chen said that the government is punishing those who obey the rules and forcing people to operate outside the law.
CAA Director Lin Kuo-hsien (林國顯) said that, in principle, the agency is trying to implement regulations at the source, starting with UAVs manufactured domestically and moving to imported devices.
Comments will be moderated. Keep comments relevant to the article. Remarks containing abusive and obscene language, personal attacks of any kind or promotion will be removed and the user banned. Final decision will be at the discretion of the Taipei Times.