Tour operators visit Beijing to talk cross-strait flights
WORTH EXPANDING? The average passenger load factor of cross-strait flights to the four Chinese airports currently in use is only about 50%, the transport minister said
A delegation of Taiwanese tour operators on Monday arrived in Beijing to meet Chinese officials with the goal of resuming cross-strait flights and tourism exchanges as soon as possible, as the COVID-19 pandemic abates.
The delegation, led by Travel Agents Association (TAA) chairman Hsiao Po-jen (蕭博仁), comprises travel association heads from the six special municipalities.
During the four-day trip, the delegation would meet with officials from China's Taiwan Affairs Office (TAO), the Chinese Ministry of Culture and Travel and Association for Relations Across the Taiwan Straits, the TAA said.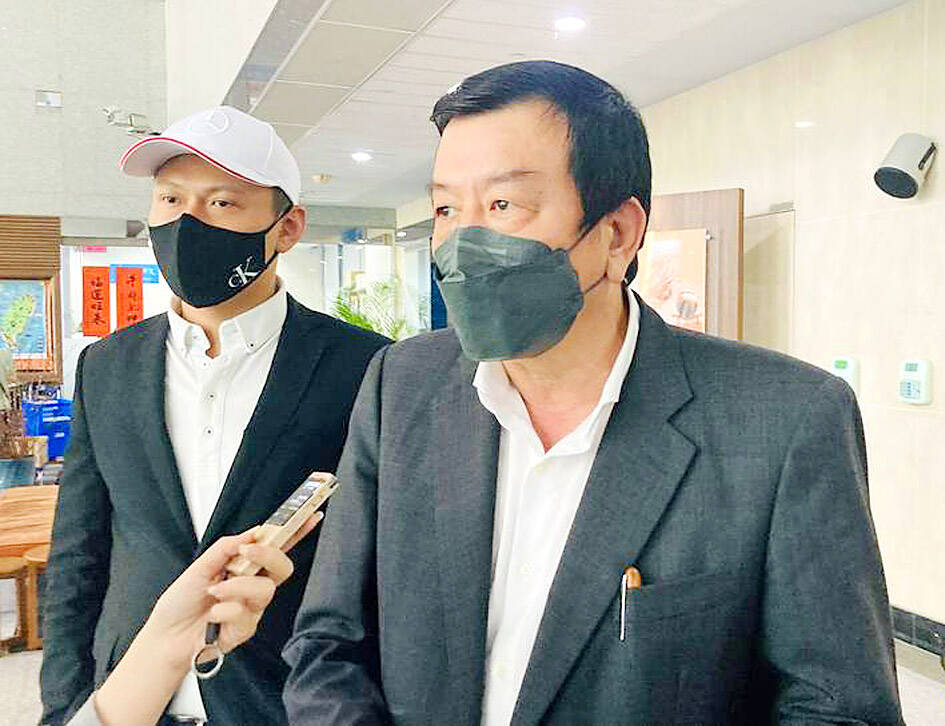 Travel Agents Association chairman Hsiao Po-jen speaks to reporters in an undated photograph.
Photo: Chen Hsin-yu, Taipei Times
Cross-strait exchanges have been suspended since 2020 due to the pandemic.
In 2019, 11.84 million foreigners visited Taiwan, 2.71 million of whom were from China, making them the largest source for international visitors, Tourism Bureau data showed.
Beijing has limited cross-strait flights to four Chinese airports — Beijing Capital Airport, Shanghai Pudong Airport, Chengdu Shuangliu Airport and Xiamen Gaoqi Airport. It has also banned Chinese tour groups from visiting Taiwan.
Prior to the pandemic, cross-strait flights were available from 10 Taiwanese and 61 Chinese airports.
The TAO last month said Chinese civil aviation officials had sent a letter to the Civil Aeronautics Administration, urging it to prioritize the resumption of cross-strait flights to 16 Chinese airports, including Guangzhou Baiyun Airport, as recommended by Taiwanese residing in China.
"We hope that Taiwan can remove all artificial restrictions and resume normal air traffic across the Taiwan Strait as soon as possible," TAO spokeswoman Zhu Fenglian (朱鳳蓮) said on Wednesday last week.
The Tourism Bureau said it was not informed in advance about the delegation's trip to China, adding that its position on welcoming Chinese tourists has not changed.
Minister of Transportation and Communications Wang Kwo-tsai (王國材) told a news conference on Thursday that a decision to resume flights to the 16 Chinese airports needs to be discussed further.
"However, the average passenger load factor of cross-strait flights to four Chinese airports is only about 50 percent," Wang said.
"Meanwhile, Beijing does not allow Chinese to travel to Taiwan individually. Nor is Taiwan on the list of 20 countries and territories where group tours are permissible in China," he added.
Taiwanese tour operators have also been banned from sending groups to China due to the pandemic.
"Restarting cross-strait flights to certain Chinese airports is related to the number of tourists traveling between Taiwan and China. The number of cross-strait flights would increase if more Chinese tourists are expected to come," Wang told reporters.
Mainland Affairs Council Deputy Minister Lee Li-chen (李麗珍) said cross-strait tourism exchanges were suspended because of the pandemic.
"We are assessing the possibility of gradually resuming cross-strait exchanges," Lee said. "We understand that the tourism sector is important in Taiwan and China, and people have a strong desire to travel overseas... The Ministry of Transportation and Communications is assessing the possibility of allowing travel agencies to form tour groups to China. People should wait patiently for the removal of the ban."
Comments will be moderated. Keep comments relevant to the article. Remarks containing abusive and obscene language, personal attacks of any kind or promotion will be removed and the user banned. Final decision will be at the discretion of the Taipei Times.