Health ministry releases drug-shortage strategy
SMALL MARKET: Lack of priority by drugmakers is a problem, requiring negotiation with pharmaceutical companies and ramping up imports, the health minister said
The Ministry of Health and Welfare yesterday explained the main reasons for national drug shortages, and provided details regarding its short, medium and long-term strategies for handing the problem.
More than 14,000 types of drugs are included in the National Health Insurance system, with multiple reasons for some drug shortages, Deputy Minister of Health and Welfare Victor Wang (王必勝) said.
The primary reasons are connected to supply issues, including global drug shortages due to the COVID-19 pandemic, Russia's invasion of Ukraine, shortages of drug ingredients and shipping delays, Wang said.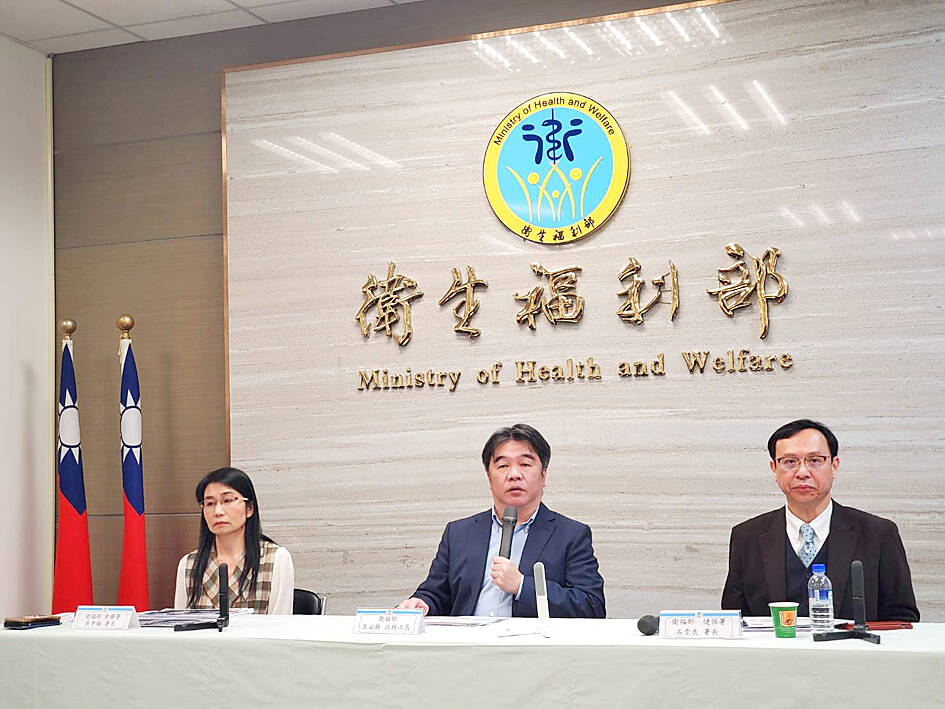 From left, Food and Drug Administration Director Wu Shou-mei, Deputy Minister of Health and Welfare Victor Wang and National Health Insurance Administration Director-General Shih Chung-liang attend a news conference in Taipei yesterday.
Photo: Lin Hui-chin, Taipei Times
As global demand increases and Taiwan is considered a small market by pharmaceutical companies, the quantity of imported drugs is likely to be affected, he said.
Another reason is "production issues," including domestic drugmakers running low on raw materials, active ingredients and even workers, Wang said.
Clinical demand issues, such as an increase in demand for drugs for respiratory diseases during the winter, and long holidays also effect drug use, he said.
Other reasons include uneven distribution.
Hospitals are prioritized for drug deliveries, so the supply to local clinics and pharmacies often falls short, Wang said.
Many doctors are also accustomed to prescribing certain brands of drugs, despite having drugs of the same form, dosage and ingredients available, while higher prices also cause an issue, he added.
Wang said short-term solutions would be aimed at drugs that have no available alternative.
Negotiating with drug companies to increase production and quickly import new supplies, while evenly distributing drugs to healthcare facilities and hospitals would also be part of the ministry's actions, Wang said.
The National Health Insurance Administration (NHIA) would also review and adjust its drug expenditure target (DET), he said.
Medium-term solutions include further adjusting the DET along with drug prices, establishing a permanent response center to monitor and deal with drug shortages faster, and setting up better communication channels with healthcare facilities and the public, Wang said.
Long-term solutions include re-evaluating the DET mechanism and drug price policies, encouraging and assisting drug companies in producing generic drugs, establishing a risk management mechanism and planning a national centralized procurement trial project, Wang said.
The Food and Drug Administration has established a drug supply information platform — dsms.fda.gov.tw — that allows healthcare providers and pharmacists to report shortages of drugs, he said.
NHIA Director-General Shih Chung-liang (石崇良) said that while many people are concerned that annual drug procurement price adjustments would make some drugs harder to obtain, the prices of drugs that are in short supply would not be adjusted.
Comments will be moderated. Keep comments relevant to the article. Remarks containing abusive and obscene language, personal attacks of any kind or promotion will be removed and the user banned. Final decision will be at the discretion of the Taipei Times.