Literature festival opens Saturday
The Taipei Literature Festival is to run from Saturday to June 8, featuring lectures by writers as well as literary trips, literature exhibitions and film screenings.
"Taipei is a literature stronghold," Taipei Mayor Chiang Wan-an (蔣萬安) told a news conference on Wednesday, expressing the hope that Taipei can become a hub for Chinese-language literature.
Feng Te-ping (封德屏), curator of the Kishu An Forest of Literature (紀州庵文學森林), where the main activities are to be held, said that he hopes attendees would feel the warmth and power of "togetherness" through a series of events.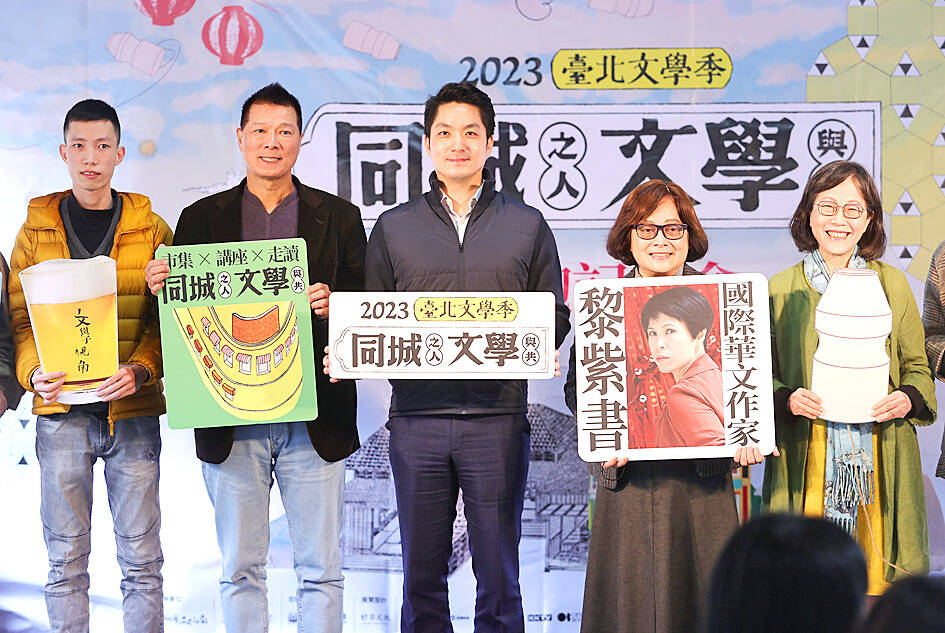 From left, writer Tseng Wei-lin, Taipei Department of Cultural Affairs Commissioner Tsai Shih-ping, Taipei Mayor Chiang Wan-an, Taipei Literature Festival producer Feng Te-ping and writer Liao Yu-hui pose at the Kishu An Forest of Literature in Taipei on Wednesday.
Photo: CNA
The festival encourages people to gather again after the COVID-19 pandemic to read, write and live together, the Taipei Department of Cultural Affairs said in a statement.
The festival is to feature a market selling books, crafts, illustrations and snacks on opening day, it said.
The first day of the event would also feature a screening of the anime film The House of the Lost on the Cape, live music and recitations by winners of the Taiwan Literature Award for Migrants in their mother tongues, it added.
Fifteen writers from different generations and backgrounds are to give eight lectures during the event, while literary trips are to be organized in the city's Jingmei (景美) and Nangang (南港) districts, the department said.
A special exhibition is to be held at the Bopiliao Historic Block (剝皮寮歷史街區) in Taipei's Wanhua District (萬華) from April 15 to May 14, showcasing different aspects of literature, it said.
Award-winning Malaysian writer Li Zishu (黎紫書) is to be the guest of honor in this year's "International Chinese Writer" activity, giving three lectures on Sinophone Malaysian Literature and fiction writing, it said.
The event also includes a film festival, which is to run from May 26 to June 8 at The Spot-Taipei Film House (光點—台北之家), featuring films directed by Nagisa Oshima and adapted from Simone de Beauvoir's life and works, it said.
Registrations for next month's lectures and activities are open on the event's Web site at http://literature.festival.taipei.
Comments will be moderated. Keep comments relevant to the article. Remarks containing abusive and obscene language, personal attacks of any kind or promotion will be removed and the user banned. Final decision will be at the discretion of the Taipei Times.