Documentary delves into migrant worker's shooting
"What killed Nguyen Quoc Phi was not merely those nine shots," Taiwanese filmmaker Tsai Tsung-lung (蔡崇隆) said at a charity screening in Taipei of his latest documentary, And Miles to Go Before I Sleep (九槍).
Tsai, the winner of last year's Golden Horse Best Documentary awards, said he wanted to tell "the parts of the story left untold" since Nguyen, a 27-year-old Vietnamese migrant worker, was shot by Hsinchu County police officer Chen Chung-wen (陳崇文) on Aug. 31, 2017.
The documentary, which premiered at the Taipei Golden Horse Film Festival in November last year, features 30 minutes of previously unseen footage from Chen's bodycam.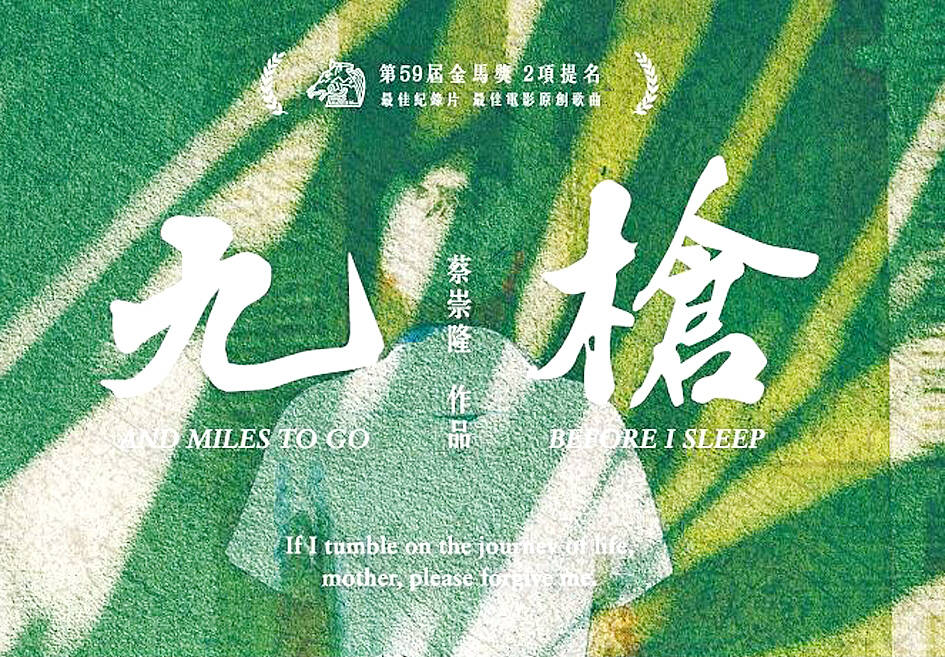 A promotional poster for the documentary And Miles to Go Before I Sleep is pictured in an undated photograph.
Photo: Screen grab from the And Miles to Go Before I Sleep Facebook page
What is more disturbing than the 12 seconds in which Chen fired those nine shots — and perhaps why police sought to keep the bodycam footage out of the public eye — is what ensued as Nguyen lay bleeding to death, Tsai said.
The footage shows Chen and community watch members preventing paramedics from attending to Nguyen, who police said had ignored repeated warnings not to get into a patrol vehicle and threw objects at them.
"He won't hurt," Chen says in the footage as Nguyen is placed on a stretcher by a second ambulance crew that arrived about 17 minutes after the shooting.
Nguyen was declared dead at a hospital, after going into cardiac arrest en route. A post-mortem found traces of alcohol and methamphetamine in his system.
Human rights groups at the time accused Chen of police brutality and racial profiling, while others said Nguyen was to blame, as he had broken into a private vehicle and wounded a community watch member prior to his confrontation with Chen.
Tsai said the incident had been "simplified" as "a conflict between a migrant worker and a police officer."
He said the incident exposed a lack of professionalism among police officers, as well as decades-long discrimination against migrant workers in Taiwan.
Tsai said people on social media have accused him of putting the police in a bad light by blaming Chen and seeking to absolve Nguyen.
However, Tsai said that if his film were to accuse any person, that would be "those in power ... [who are] in charge of training professional police officers," such as the head of the National Police Agency and the minister of the interior.
The lack of professionalism was manifested in Chen, who fired nine times at an aggressive yet unarmed man, he said.
Chen and other officers at the scene also failed to send Nguyen to a hospital in time, while another officer picked up shell casings before forensic investigators arrived at the scene, he said.
Nearly a year after Nguyen's death, the Control Yuan censured the Hsinchu County Police Bureau, saying Chen's "overuse" of his firearm, the delay in getting medical help for Nguyen and the backup officer's tampering with crime scene evidence were the result of inadequate police training.
Chen was sentenced to eight months in prison, or three years probation, for "negligence in causing the death" of Nguyen. In December 2019, an appeals court reduced Chen's sentence to six months.
During the trial, Chen said he had been left with no choice but to fire at Nguyen, as he had tried in vain with pepper spray and a police baton to stop him from assaulting other people.
The 22-year-old officer, who had been on the job for less than two years, acknowledged being "very nervous" and unaware of how many bullets he fired during the confrontation.
Tsai said he believes Chen did not mean to kill Nguyen, adding that the young officer had also been broken by the tragedy.
Society should go beyond supporting either side and look at the "systematic problem" of law enforcement, as it could affect every person in Taiwan, he said.
One can advocate for the rights of migrant workers while calling for reforms to the police system, which is essentially an act of support for all police officers, he added.
Tsai said he would "have had some qualms" had he not made the documentary.
"To me, it [the footage] is visual evidence ... of the sense of distance, distrust and misunderstanding, as well as the stereotypes that Taiwanese have held toward migrant workers," he said.
Migrant workers, despite their contributions to Taiwan's economic growth, are "deemed expendable" by their employers and are "dismissed" by the public, he said.
The documentary's English title is taken from Robert Frost's poem Stopping by Woods on a Snowy Evening, in which the American poet ponders the tranquility of woods before recalling his unfulfilled commitments.
Nguyen was one of the hundreds of thousands of migrant workers in Taiwan who have traveled far from home to improve their lives, Tsai said.
Comments will be moderated. Keep comments relevant to the article. Remarks containing abusive and obscene language, personal attacks of any kind or promotion will be removed and the user banned. Final decision will be at the discretion of the Taipei Times.