Smoking ban on college campuses takes effect
AMENDMENT IMPLEMENTED: The education ministry said that schools should remove all smoking areas and implement measures to help uphold the blanket ban
A blanket ban on smoking on college and university campuses took effect yesterday with the implementation of an amendment to the Tobacco Hazards Prevention Act (菸害防治法). The Ministry of Education said it has instructed schools to remove outdoor smoking areas and put up "no smoking" signs at campus entrances by the end of this month.
Schools must be wholly non-smoking environments by Wednesday, the ministry said, adding that they are required to patrol smoking hot spots and set penalties for contraventions, while faculty and staff are responsible for dissuading people from smoking on campus.
It ordered schools to inform faculty, staff, students and visitors about the no-smoking rules, with special emphasis on getting the message to students who live in campus dorms or attend classes at night, as well as foreign students.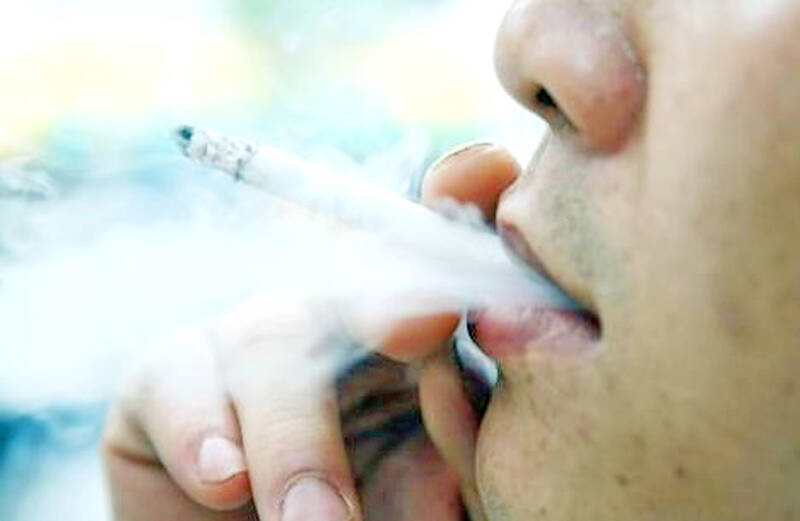 A person smokes a cigarette in Taipei in an undated photograph. Warning: Smoking can damage your health
Photo: CNA
The penalties for students should include guidance or education, such as removing a demerit if the student quits or reduces how much they smoke, it said.
In a notice issued to colleges and universities on tips to implement the amended act, the ministry said that patrols of smoking hot spots should be regular, and have regulations for routes and reporting mechanisms.
Schools should designate areas that faculty and staff members are responsible for, the ministry said, adding that local health departments can be contacted to help inspect smoking management areas, or measures can be discussed with local borough wardens or community groups to prevent residents from smoking on campus.
Schools with designated smoking areas are required to remove them before Wednesday, and are advised to put up signs saying that the "smoking" designation has been removed for the area and smoking is prohibited everywhere on campus, it said.
The ministry's Department of Planning said that "no smoking on campus" signs should be placed at entrances, open campus borders and on maps.
The ministry also ordered institutes to establish task forces to help faculty and students handle smoking-related issues, for example health centers could provide smoking cessation programs or smokers could be referred to a hospital to get resources or more help to quit.
National Alliance of Presidents of Parents' Associations president Wang Han-yang (王瀚陽) said that every corner of a campus is a public space, so a blanket ban on smoking is a good way to protect the health of young people and shows respect for the public interest.
Smoking is trendy among some students, but it severely damages their health, Wang said, adding that while removing designated smoking areas on campus might be inconvenient for smokers, it would create a better environment for them to quit.
Additional reporting by CNA
Comments will be moderated. Keep comments relevant to the article. Remarks containing abusive and obscene language, personal attacks of any kind or promotion will be removed and the user banned. Final decision will be at the discretion of the Taipei Times.