Hsia told Beijing Taiwanese are 'uneasy'
OPPORTUNITY: A retired Japanese general said the KMT's wins in last year's local polls have spurred the CCP into supporting the party the same way it backed Ma Ying-jeou
A Chinese Nationalist Party (KMT) delegation that visited China has on multiple occasions told Chinese officials that heightened tensions across the Taiwan Strait have made many Taiwanese uneasy, KMT Vice Chairman Andrew Hsia (夏立言) said yesterday, adding that the delegation was seeking dialogue with Beijing, instead of a quarrel.
The delegation, led by Hsia, returned to Taiwan on Saturday following a 10-day trip.
The KMT held a news conference to tout the delegation's achievements, but came under scrutiny by reporters, who pressed Hsia about his meetings with Chinese Communist Party (CCP) Politburo Standing Committee member Wang Huning (王滬寧) and Taiwan Affairs Office Director Song Tao (宋濤).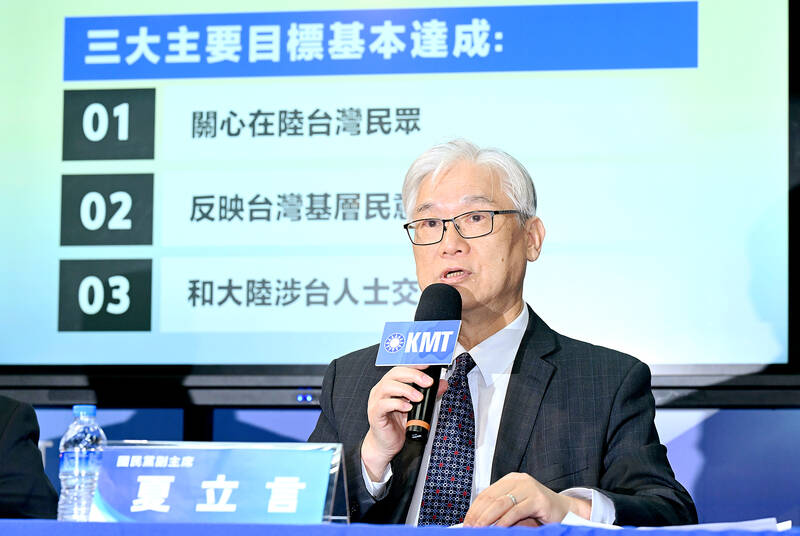 Chinese Nationalist Party (KMT) Vice Chairman Andrew Hsia speaks at a news conference at the party's headquarters in Taipei yesterday.
Photo: Liao Chen-huei, Taipei Times
"We have on multiple occasions spoken for Taiwanese, including during our meetings with high-ranking officials in Beijing. I clearly told them that heightened tensions across the Taiwan Strait have caused unease among the general public in Taiwan," Hsia told reporters.
"Both sides know very well that Beijing and Taipei have different policies and positions. However, we were there to have dialogue, not pick fights. We held our ground and we believe that both sides can pursue consensus on issues, despite their differences," he added.
Asked if the visit was an indication that KMT Chairman Eric Chu (朱立倫) is planning to run for president, Hsia said that the party would nominate candidates that are most likely to win the presidential election next year.
"We did not talk about Taiwan's presidential election at all during our trip to China," Hsia said. "Talking about elections in Taiwan was completely unnecessary as they are internal affairs."
Osamu Onoda, a retired Japanese air force general and a senior research fellow at the Security Strategy Research Institute, said that the KMT's victories in the local elections in November last year have motivated the CCP to re-engage with the party to achieve its political purposes.
The CCP is supporting the KMT in the same way it did during the administration of former president Ma Ying-jeou (馬英九), Onoda said.
Hsia said he disagreed with Onoda's statement.
"People paid close attention to the delegation's visit, because nobody wants war," he said.
"As an opposition party, the KMT has neither the political authority nor the means to engage in formal negotiations with China. We can only find ways to secure more benefits for Taiwanese and make Taiwan a safer place," he added.
The KMT has always attached great important to cross-strait exchanges and communications, Hsia said, adding that President Tsai Ing-wen (蔡英文), Mainland Affairs Council Minister Chiu Tai-san (邱太三) and Minister of Foreign Affairs Joseph Wu (吳釗燮) have also highlighted the importance of cross-strait communication.
Hsia said it has always been the KMT's position to oppose Taiwanese independence and stand by "the 1992 consensus."
The "1992 consensus," a term former Mainland Affairs Council chairman Su Chi (蘇起) in 2006 admitted making up in 2000, refers to a tacit understanding between the KMT and the Chinese government that both sides of the Taiwan Strait acknowledge there is "one China," with each side having its own interpretation of what "China" means.
"Highlighting that each side has its respective interpretation of what 'one China' means is unnecessary, as the '1992 consensus' and the meeting between then-Straits Exchange Foundation chairman Koo Chen-fu (辜振甫) and then-Association for Relations Across the Taiwan Straits chairman Wang Daohan (汪道涵) in 1993 would not occur without the fundamental principle," Hsia said.
Comments will be moderated. Keep comments relevant to the article. Remarks containing abusive and obscene language, personal attacks of any kind or promotion will be removed and the user banned. Final decision will be at the discretion of the Taipei Times.