Mask mandate in some venues lifted
EASING: Venues that would still require masks to be worn include all healthcare facilities, nursing homes, welfare institutions and public transportation
The mask mandate is to be lifted today for indoor venues except for healthcare centers, nursing facilities, public transportation and other designated venues.
The Central Epidemic Command Center (CECC) on Feb. 9 announced the policy, citing the easing of the COVID-19 outbreak and increased herd immunity, which is based on estimates that show 60 percent of the population has contracted the disease and a first booster vaccinate rate of more than 76 percent.
Indoor venues that would still require masks to be worn include all healthcare facilities, pharmacies, long-term care facilities, nursing homes, child and youth facilities, mental health and welfare institutions, public transport and stations — including railway, cable car, bus, taxi, air and sea transport services — and ambulances.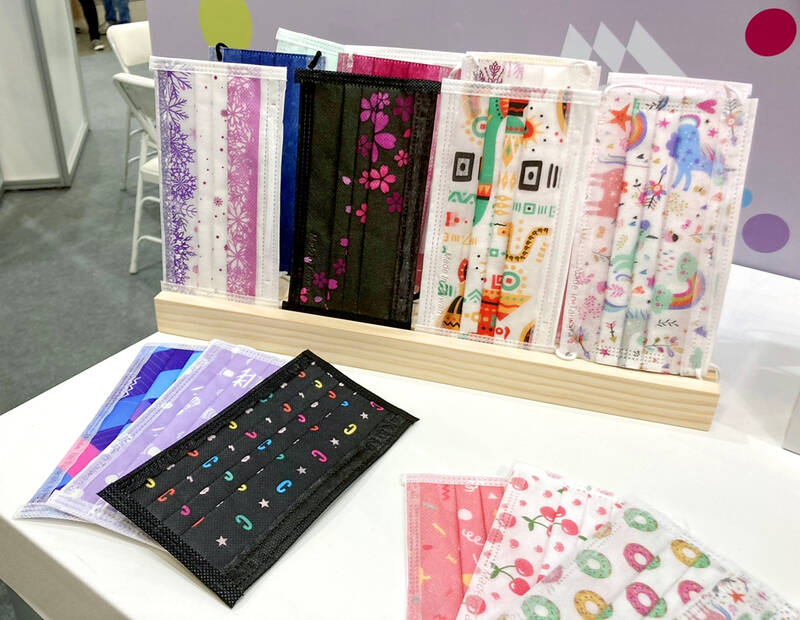 Assorted masks are pictured in an undated photograph.
Photo: Chen Jou-chen, Taipei Times
People in venues that would maintain the mask mandate are allowed to temporarily remove their masks to eat or drink, take pictures, receive treatment or take part in activities that require mask removal.
However, mask rules would remain in schools, after-school care centers and infant care centers until March 6, and masks would still be required in school health centers and school buses.
Meanwhile, the CECC yesterday reported 15,747 new local COVID-19 cases, 130 imported cases and 68 deaths. The new local caseload was 6.8 percent lower than on Sunday last week.
New local cases have remained between 10,000 and 20,000 over the past few days, and the reduction rate has slowed, said Philip Lo (羅一鈞), who is deputy head of the CECC's medical response division and Centers for Disease Control deputy director-general.
There are still some factors that could affect the number of new cases over the next few days, including recent Lantern Festival activities, schools starting the new semester, the lifting of the indoor mask mandate and the 228 Memorial Day four-day holiday, Lo said.
The center would pay close attention to the changes in new cases, he added.
Separately, National Taiwan University College of Public Health professor Chan Chang-chuan (詹長權) on Saturday wrote on Facebook that the CECC's leaders have "missed the opportunity to lower the mortality rate of Omicron infections in Taiwan."
Lo yesterday responded by comparing the case fatality rates among countries.
The COVID-19 case fatality rate in Taiwan is about 0.17 percent, which is similar to Australia, and lower than that of Japan, at 1.22 percent, but higher than South Korea, Singapore and New Zealand, he said.
The case fatality rates in the Asia-Pacific region are about 1 percent, which is lower than most countries, he said.
Lowering the fatality rate has been an important task since the first wave of infections, and measures include increasing anti-viral drug administration for elderly people and care facility residents, Lo said, adding that to reduce deaths from infection, vaccination coverage must be increased among elderly people.
Comments will be moderated. Keep comments relevant to the article. Remarks containing abusive and obscene language, personal attacks of any kind or promotion will be removed and the user banned. Final decision will be at the discretion of the Taipei Times.