US Representative Ro Khanna leads group to Taiwan
US Representative Ro Khanna is leading a congressional delegation to Taiwan this weekend to bolster economic ties as the relationship between Washington and Beijing comes under fresh strain.
Khanna, a California Democrat who represents much of Silicon Valley, is to meet with President Tsai Ing-wen (蔡英文) and Taiwan Semiconductor Manufacturing Co founder Morris Chang (張忠謀), as well as representatives from Alphabet Inc's Google, Khanna's office said in a press release.
"A lot of my interest is the economic — the semiconductor, the manufacturing, bringing that back here," Khanna said in an interview in Santa Clara, California, adding that he plans to affirm the "one China" policy on the trip.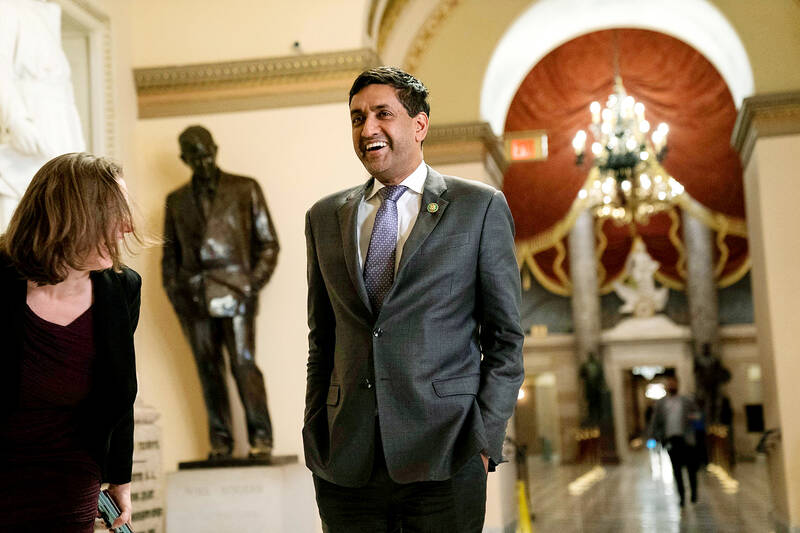 US Representative Ro Khanna attends a session of the US House of Representatives at the Capitol in Washington on Jan. 9.
Photo: Reuters
US representatives Tony Gonzales, Jake Auchincloss and Jonathan Jackson are also part of the delegation.
Auchincloss and Khanna are members of the US House of Representatives' select committee on China.
Khanna said that he began planning the trip before the committee formed, prompted in large part by the CHIPS and Science Act, a US$280 billion investment in semiconductor manufacturing that Khanna helped usher to US President Joe Biden's desk in the previous Congress.
His visit was in the works before the US military shot down a Chinese balloon that had flown over the continental US, leading US Secretary of State Antony Blinken to postpone a visit to Beijing.
Khanna said he intends to visit China this year, at a time that the US Department of State deems appropriate.
"The [China] trip was planned before the incidents, so canceling it would have sent the wrong message," Khanna said.
The Taiwan trip could be the first of several by members of Congress this year, as House Foreign Affairs Chairman Michael McCaul said he plans to lead a bipartisan delegation to the nation this spring.
That is likely to occur during the April House recess, a person familiar with the matter said.
US House of Representatives Speaker Kevin McCarthy has also expressed his intent to visit Taiwan at some point this year or next, while McCaul has said he would be part of the trip.
Asked whether he would join either of those visits, Khanna that this upcoming visit is "what I plan to do."
"I've also very clearly said that I would like to engage China and go to China as well, and I'm not sure if the speaker or McCaul will take that approach," Khanna said.
The travel plans demonstrate an unflagging continuation of congressional support for Taiwan.
Last year, at least 37 US lawmakers visited, the most in a decade, a Bloomberg tally showed.
Among them was then-House speaker Nancy Pelosi, whose trip touched off a furious response by China, including staged military exercises around Taiwan.
Comments will be moderated. Keep comments relevant to the article. Remarks containing abusive and obscene language, personal attacks of any kind or promotion will be removed and the user banned. Final decision will be at the discretion of the Taipei Times.