Andrew Hsia defends trip to China after protests
CANDIDATE ERIC CHU? A Taiwan Thinktank consultant said the trip was planned as a springboard to launch the KMT chairman's bid to secure a presidential nomination
Chinese Nationalist Party (KMT) Vice Chairman Andrew Hsia (夏立言) yesterday defended his decision to visit China after the Taiwan Statebuilding Party protested at Taiwan Taoyuan International Airport upon his arrival a day earlier.
The Taiwan Statebuilding Party said that Hsia's 10-day trip was about "colluding with China to sell out Taiwan."
"Throughout the trip, our delegation upheld the principles of mutual respect and equality in status in interactions with Chinese officials," Hsia told reporters. "The public can see our party's efforts to deal with China and the good results of maintaining peace, regional stability and economic prosperity."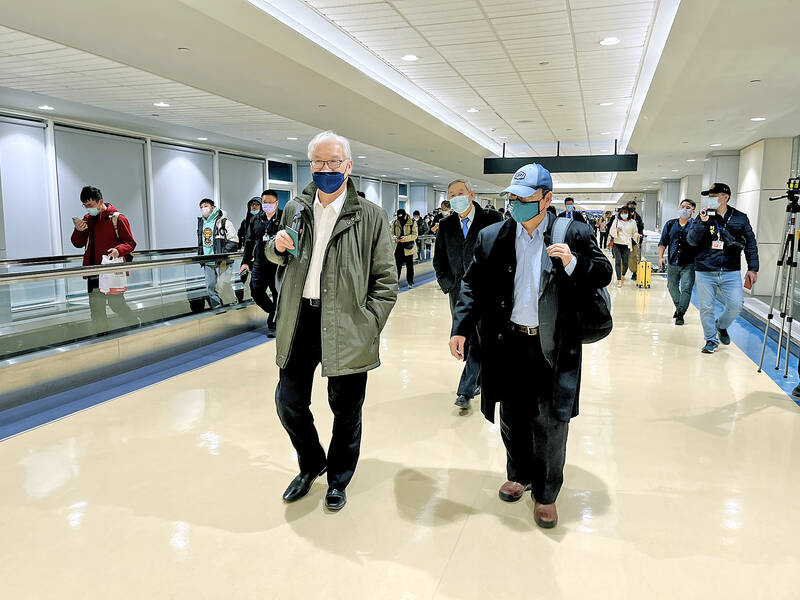 Chinese Nationalist Party (KMT) Vice Chairman Andrew Hsia, left, walks through Taiwan Taoyuan International Airport on Friday after returning from a visit to China.
Photo: CNA
"We believe the trip has helped to reduce the tension across the Taiwan Strait," he said.
"We achieved the three main goals of the trip: checking on the well-being of Taiwanese communities in China, reflecting public opinion in Taiwan and engaging with key Chinese officials responsible for Taiwan affairs," he added.
After departing on Feb. 8, Hsia and the delegation were met by Chinese Communist Party (CCP) officials and local authorities, including a Feb. 10 meeting in Beijing with Wang Huning (王滬寧), the Chinese politburo's fourth-highest ranking member and deputy of China's Central Leading Group for Taiwan Affairs, Chinese state media and foreign correspondents reported.
While in Beijing, Hsia also met with Song Tao (宋濤), director of the Chinese State Council's Taiwan Affairs Office (TAO), and had separate talks with Yin Li (尹力), the CCP's secretary for Beijing and a politburo member.
The five-member delegation also included Kao Su-po (高思博), KMT Chairman Eric Chu's (朱立倫) brother-in-law and others with links to the KMT chairman.
At the airport on Friday, Taiwan Statebuilding Party Chairman Wang Hsing-huan (王興煥) led party members in a protest against the trip, shouting slogans including: "Taiwan will be in grave danger if the KMT gains political power" and "shame on Hsia for selling out Taiwan to China."
"China is the only country that has vowed to invade and annex Taiwan, yet KMT officials betray Taiwan by agreeing to engage with China under its 'one country, two systems' plan and the 'one China principle,'" Wang said. "The KMT is the main collaborator helping China to breach the containment walls set up by the alliance of democracies to stop Chinese military expansionism."
"The KMT is acting as an enemy of Taiwan and an enemy of the world," he said.
Meanwhile, Taiwan Thinktank consultant Tung Li-wen (董立文) yesterday said that the visit was planned as a springboard to launch Chu's bid to secure the KMT's nomination for president in 2024.
It is important that Taiwanese know what deals Hsia and Wang Huning agreed to in Beijing, Tung said.
"Did Hsia agree to sacrifice Taiwan's democracy and freedom, and reject the existence of a sovereign Taiwan?" he asked. "We must find out."
Has the KMT agreed to unification with China in exchange for support in a Chu presidential run?" he asked.
Comments will be moderated. Keep comments relevant to the article. Remarks containing abusive and obscene language, personal attacks of any kind or promotion will be removed and the user banned. Final decision will be at the discretion of the Taipei Times.